Within Each Other, Portraits of Ourselves
by Alice Kettle
Textiles offer a powerful medium through which to explore themes of cultural heritage, journeys and displacement. This exploration was central to Alice Kettle's ambitious Thread Bearing Witness project shown at The Whitworth, Manchester in 2018. Through this project Kettle connected communities and individuals across the UK with the making of three monumental works inspired by the strength, resilience, and hospitality of refugees and asylum seekers. This new project Within Each Other, Portraits of Ourselves, launched as part of Threading Forms curated by Candida Stevens for the London Art Fair, sees Alice extending her reach beyond the UK, to incorporate communities around the world.
As part of the Karachi Biennale19, Alice worked with groups of women in Pakistan to co-create a stitched piece. These same women, supported with public funding from the National Lottery through Arts Council England, contribute to this series of portraits by offering floral motifs and decorative backgrounds which Alice incorporates into her work. This project has brought together expert stitchers from villages and communities in the Sindh province. Individuals from Syria, Iran and Uganda, now based in the UK, are also contributors to these portraits. Alice is engaging with these groups and individuals as part of an on-going relationship to support sustainable practice and empower communities. Alice is passionate about sustaining traditional stitch ancestral knowledge, alongside new and emerging techniques, as part of the rich vocabulary of stitch. By working with these communities she is encourging the retention of their knowledge and their cultural identity.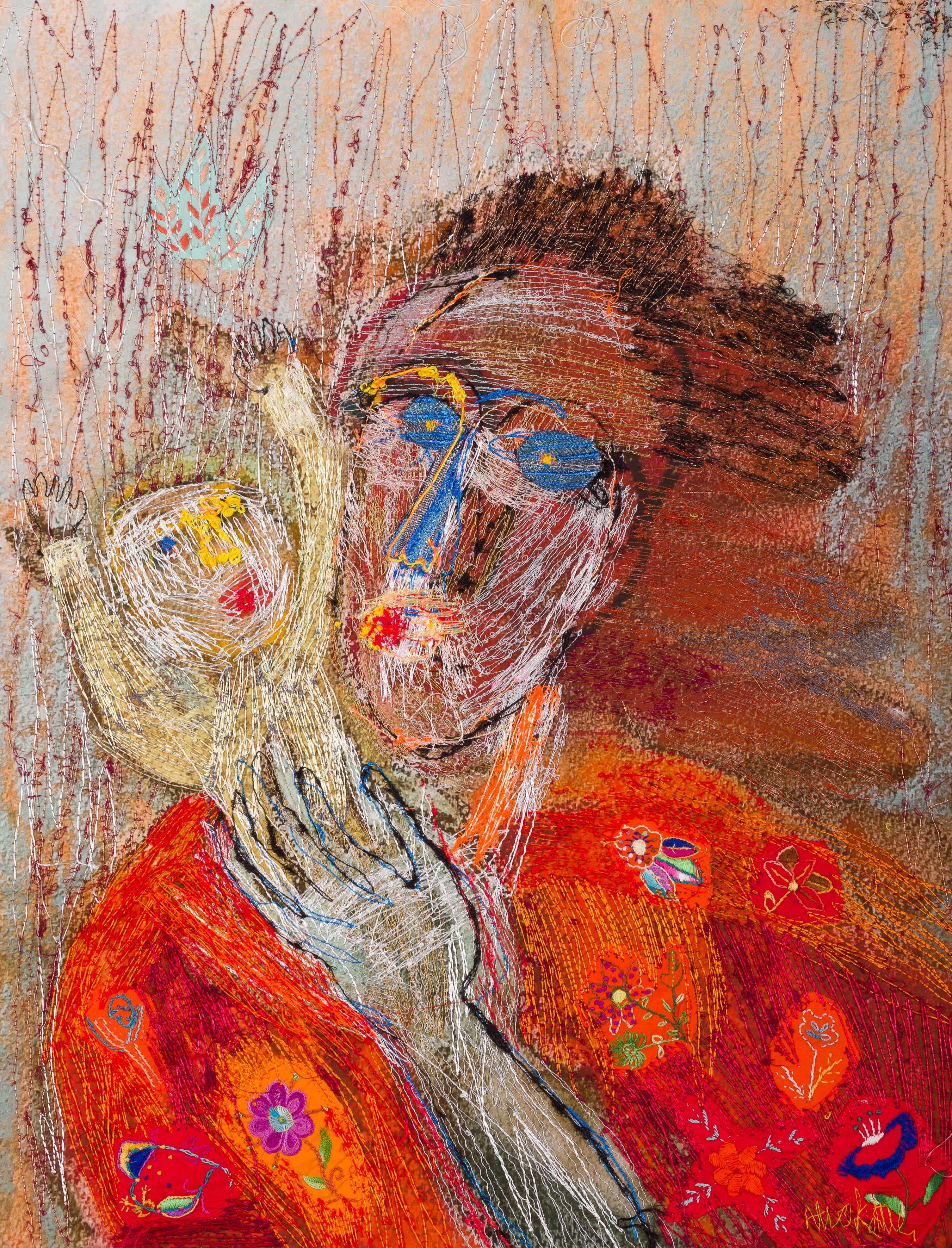 Woman and Baby, 2019
Alice Kettle's new series of portraits can be seen in the context of this opening out of her practice to engage more emphatically through stitch with others. This reflects the ability of stitch to intersect across divided spaces and connect with others through a common language of making. Textiles and pattern have historically migrated, facilitated by the movement of people and trade. Agile and mobile, textile is a material carrier for the imagery and symbolism of stories. These new works create a quiet space for action where stitch can encounter what it means to be human. The works simultaneously explore individual and collective identity, divided and shared through social and political circumstances.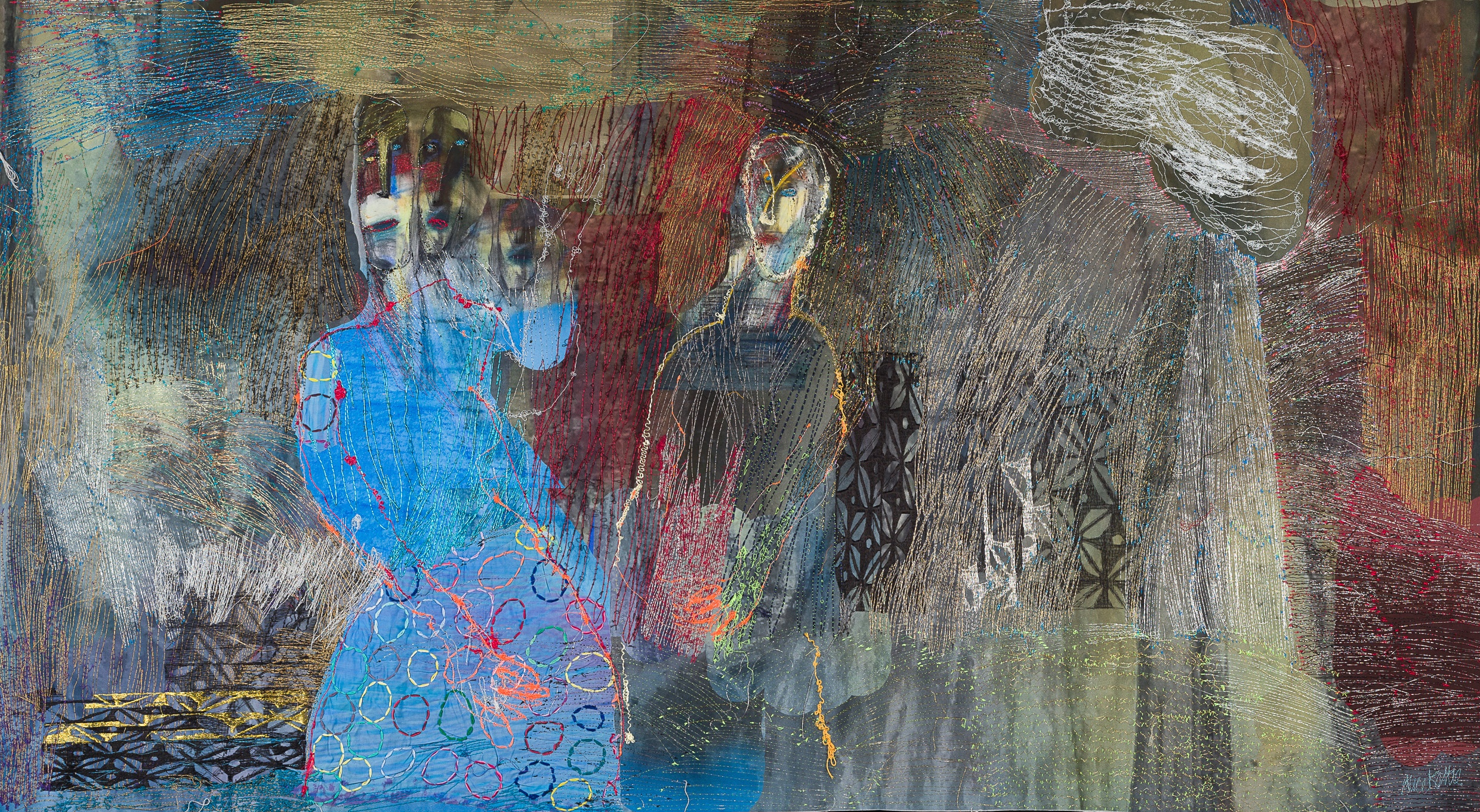 Under the Tree, 2019
In her role as Professor at Manchester School of Art, Alice Kettle has researched the meeting place of traditional analogue stitching skills and digitised contemporary methodologies. She has developed a unique practice, creating textile works which employ a combination of stitch techniques, combining the use of antique machines from early last century with hand stitch and contemporary digital technology.
This series of portraits consists of layers of imagery, so appropriate for a series of portraits, for we ourselves consist of layers, some apparent, some hidden. Initial pastel drawings are scanned and printed on fabric, they are then overlaid with hand and machine stitching using the threads to 'paint' areas of gestural colour and texture and to 'paint in' the collaborative elements. Metallic threads shimmer, and obscured backgrounds suggest the possibility of hidden figures. Enticing and engaging this work explores new territory for Alice, created on a domestic scale, while looking closely at the individual and the community simultaneuosly. The works examine notions of identity, of authorship and of stitch as a medium of integration across borders and technologies, but also at the mystery of the individual and it's place within and without these borders.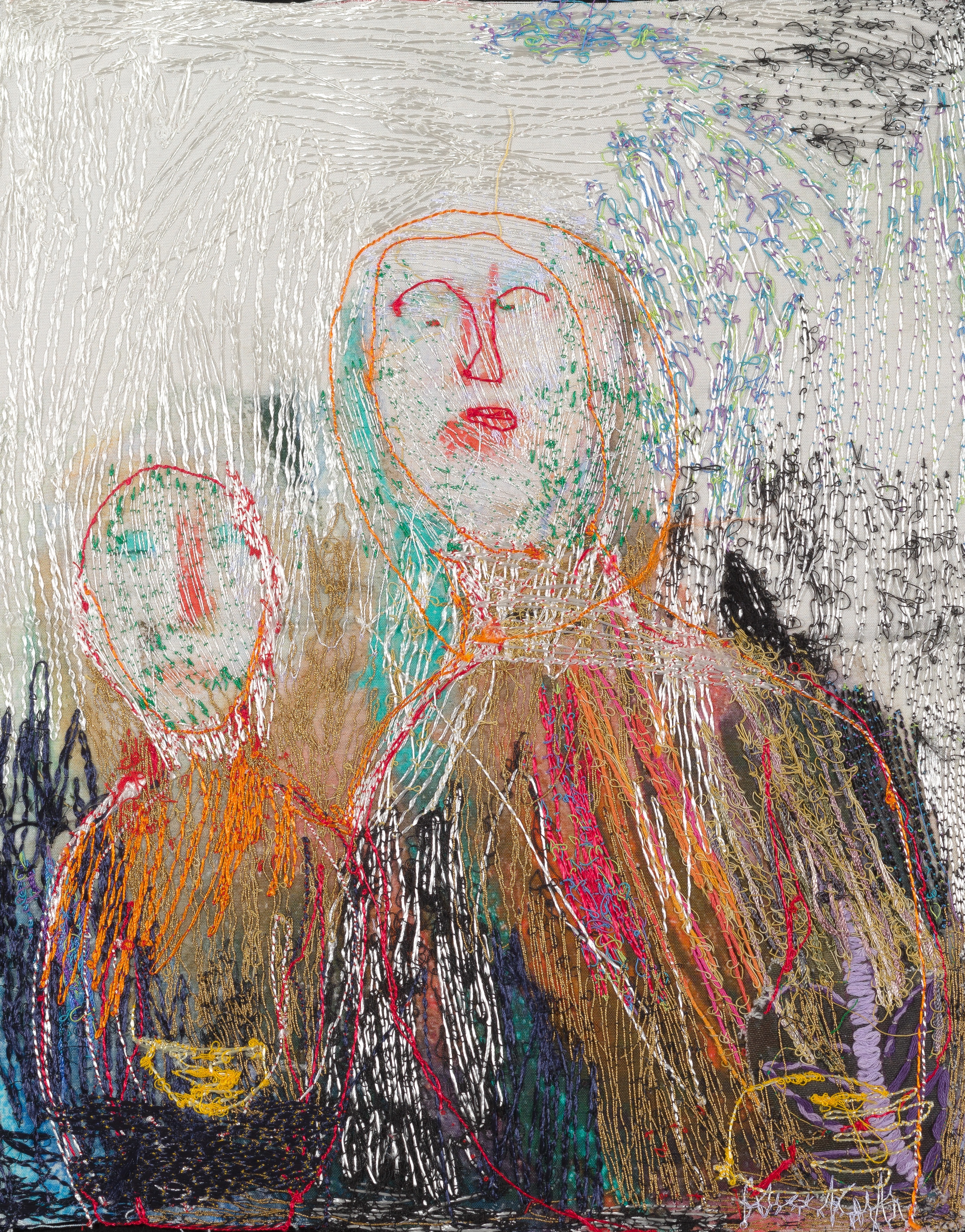 Mother and Child II, 2019
Elsewhere in 2020 Alice Kettle presents a solo show of work at Saïd Business School, Oxford from January to April and is an invited artist for "Untitled, 2020" at Punta Dogana in Venice curated by Thomas Houseago, Caroline Bourgeois and Muna El Fituri with the Pinault Collection from March to December. She is one of three contempoaray artists (others are Yinka Shonibar and Sarbjit Natt) as part of Unbound curated by June Hill at Two Temple Place April 2020.
Candida Stevens, 2020.