Opening hours:
Wednesday - Saturday, 10 - 5pm and by appointment.
+44 (0)1243 528401
+44 (0) 7794 416569
Candida Stevens Gallery
12 Northgate
Chichester
West Sussex
Between exhibitions the gallery might be closed while we rehang so it's always worth checking the exhibition pages.
What is the difference between gallery artists & exhibited artists?
Gallery artist denotes artists currently exhibiting, those for whom we hold stock and those who are part of our ongoing program.
Exhibited artists denotes artists who have been invited to exhibit historically, but we don't hold stock.
Join our email list via the link below to be the first to know what is happening when.
Director and Curator - Candida Stevens
email cs@candidastevens.com
Director - Dan Stevens
email ds@candidastevens.com
Gallery Manager - Abigail Day
email info@candidastevens.com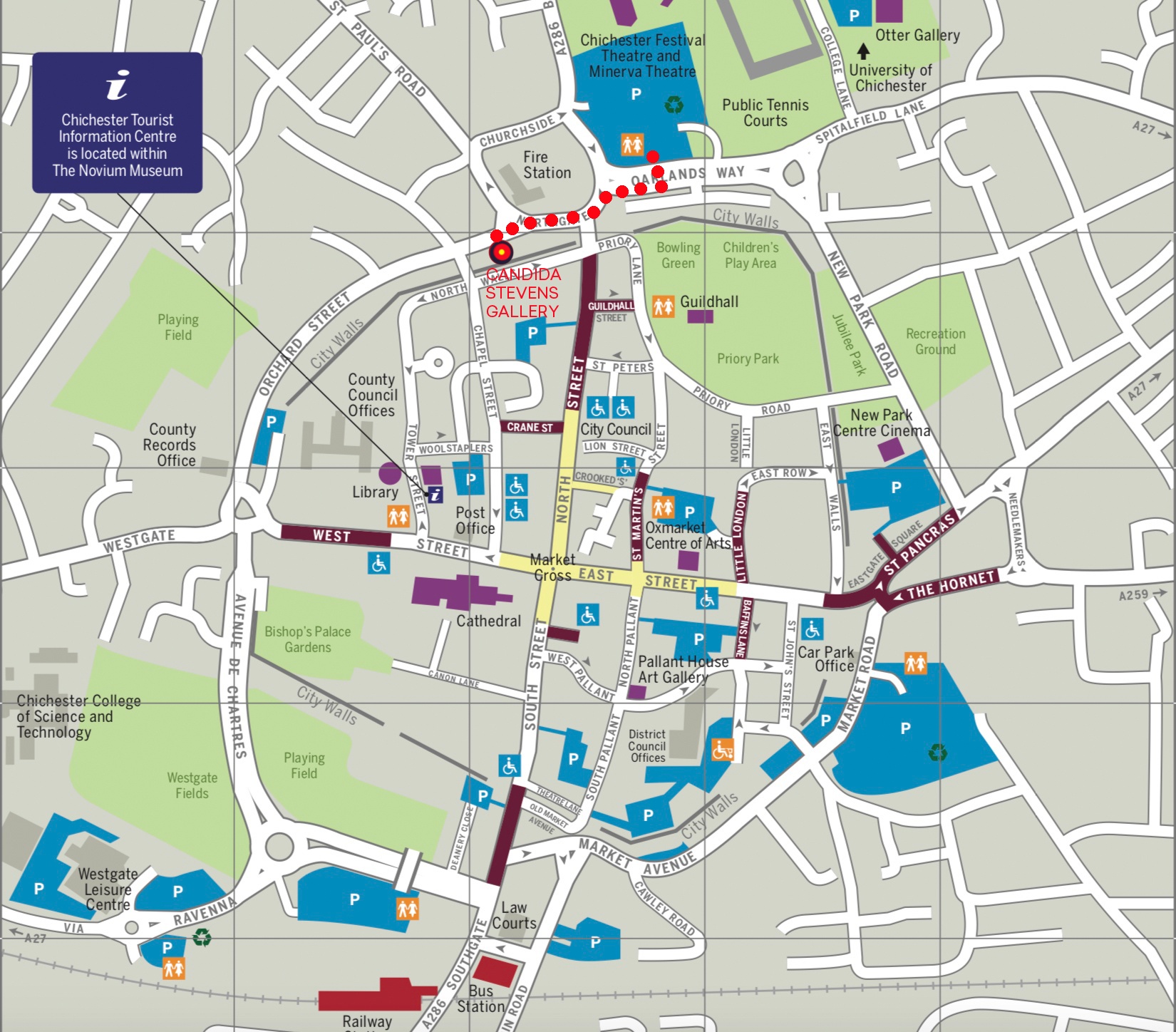 Red dotted line shows route to us from the theatre car park, approx 3 mins. walk.
How to find us:
If you have Google Maps, put Candida Stevens Gallery, into the search and it will bring you to the building. The postcode won't!
Located in the historical City of Chichester, we occupy the ground floor of an old industrial building just outside the north walls of the City.
We are not on the highstreet so provide detailed information below on how to find us.
By foot:
We are a 3 minute walk from Chichester Festival Theatre, 5 minute walk from the Cathedral and 7 minute walk from Pallant House Gallery.
From the Chichester Festival Theatre, walk under the underpass and you will be outside No. 1, a bar and restaurant on Northgate. Cross over North Street, pass Siematics kitchen design to your left, walk along the pavement for another 100 metres past a fireplace shop and you will find us set back from the pavement as the road veers left into Alderman's Walk.
By train:
From London Victoria direct to Chichester Station, journey time approximately 1 hour and 40 minutes. We are a 10 minute walk due north through the centre of the City.
By car:
1.5-2 hours from London. Either head out on the A3 to Portsmouth and then along the A27 to Chichester or from West London it can be quicker to head out on the M4 onto the M25 and round to the A3.
Parking:
There is parking for up to three cars for short visits in front of the gallery. Otherwise the best car park is Northgate car park by the Chichester Festival Theatre, walk under the underpass and you will be on Northgate.
Artist submissions:
Our program is planned up to two years in advance.
We are not open for artist submissions. If you do contact us please understand that we cannot reply to each request we receive.