Major current exhibition, Thread Bearing Witness at The Whitworth Gallery, Manchester until 24th Feb 2019
Internationally renowned, pioneering artist Alice Kettle whose work is regarded as boundary breaking and contemporary. "Alice Kettle has established a unique area of practice in stitch, consistently and on an unparalleled scale." V&A Museum.
Alice Kettle's work is regarded as boundary breaking and contemporary in its process, yet it also evokes a deep sense of the fundamental with it's themes. Her approach is immersed in the relationship we as humans have with nature, the world and each other. "We are part of the material world as physical beings" she says "… implicated in a generative cycle of relation­ships".
Her fine art training at the University of Reading, links her to an influential generation of con­temporary painters such as Terry Frost, Mali Morris and Albert Irvin, all whom were her tutors. You can see the legacy of their work present in her mark making, colour and energy of line. Yet, unlike theirs her work is largely figurative. Turning to textiles after her time at Goldsmith's, Kettle's work contributes to a tradition of thread narrative in Britain, which began in the 11th century with the Bayeux tapestry, and with the histories of women who have long communi­cated their lives and experiences through textile work.
Kettle depicts contemporary events and the experience of being in the world in her stitched tales, which spring from mythology and storytelling. She draws references from the history of figurative textiles and monumental narrative tapestry. In Kettle's narratives these allusions tell of her own encounters, of transformative experiences and the continual process of growth, renewal, change, decay, and the counterpoints of tragedy and hope.
Kettle is a pioneer of her art form, with an application and process that makes her a unique creator and maker of art. She describes her work like holding a kite, connected to the earth in real time and flying into the sky in her imagination.
While she trained as a painter, Kettle has been lauded by her contemporaries for "her use of a craft medium, consistently and on an unparalleled scale." With curator Sara Roberts stating "The scale of her work belies their component parts: individual tiny stitches, which combine to form great swathes of colour, painterly backgrounds incorporating rich hues and metallic sheen."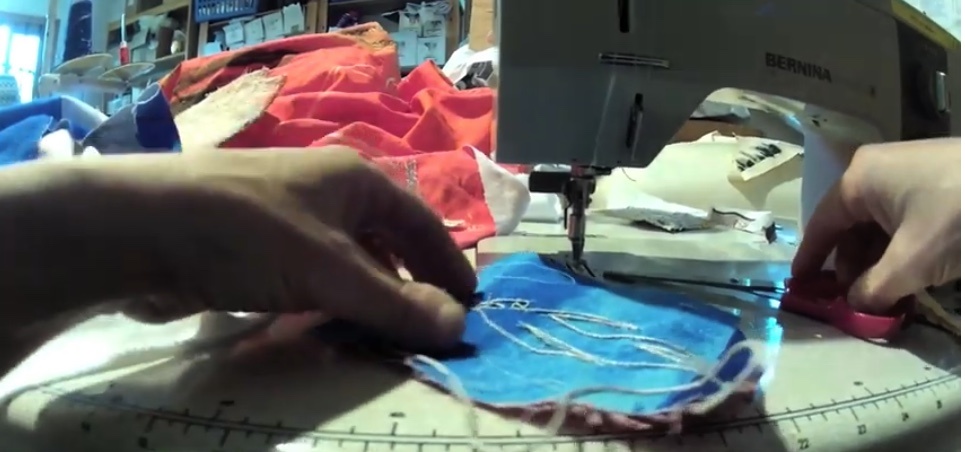 Making It - Watch Alice Kettle at work on her Odyssey Series for Southampton City Art Gallery,

on display in the Barring Room until 9 March 2019
Education;
Fine Art, BA (Hons) University of Reading
Textile Art (Postgraduate Diplomat), Goldsmiths' College, University of London
Public Collections;
Ararat Art Gallery, Victoria, Australia
Belger Collection, Kansas City USA
Hove Museum & Art Gallery
Portsmouth City Art Gallery
The Otter Art Gallery, University of Chichester
The Embroiderers' Guild
St Mary's College, Baltimore, USA
Calderdale MBC: Museums and Arts
The Embroiderers' Guild, NSW, Australia
Manchester City Art Gallery
Public Collections;
The Crafts Council, London
The Whitworth Gallery, Manchester
Museo International delle Arti Applicate Oggi, Turin, Italy
Liverpool International Slavery Museum
Museum of Decorative Art and Design, Riga, Latvia
The Prudential Collection
The Broadgate Club, London.
Hampshire Museums Service
Manchester Metropolitan University