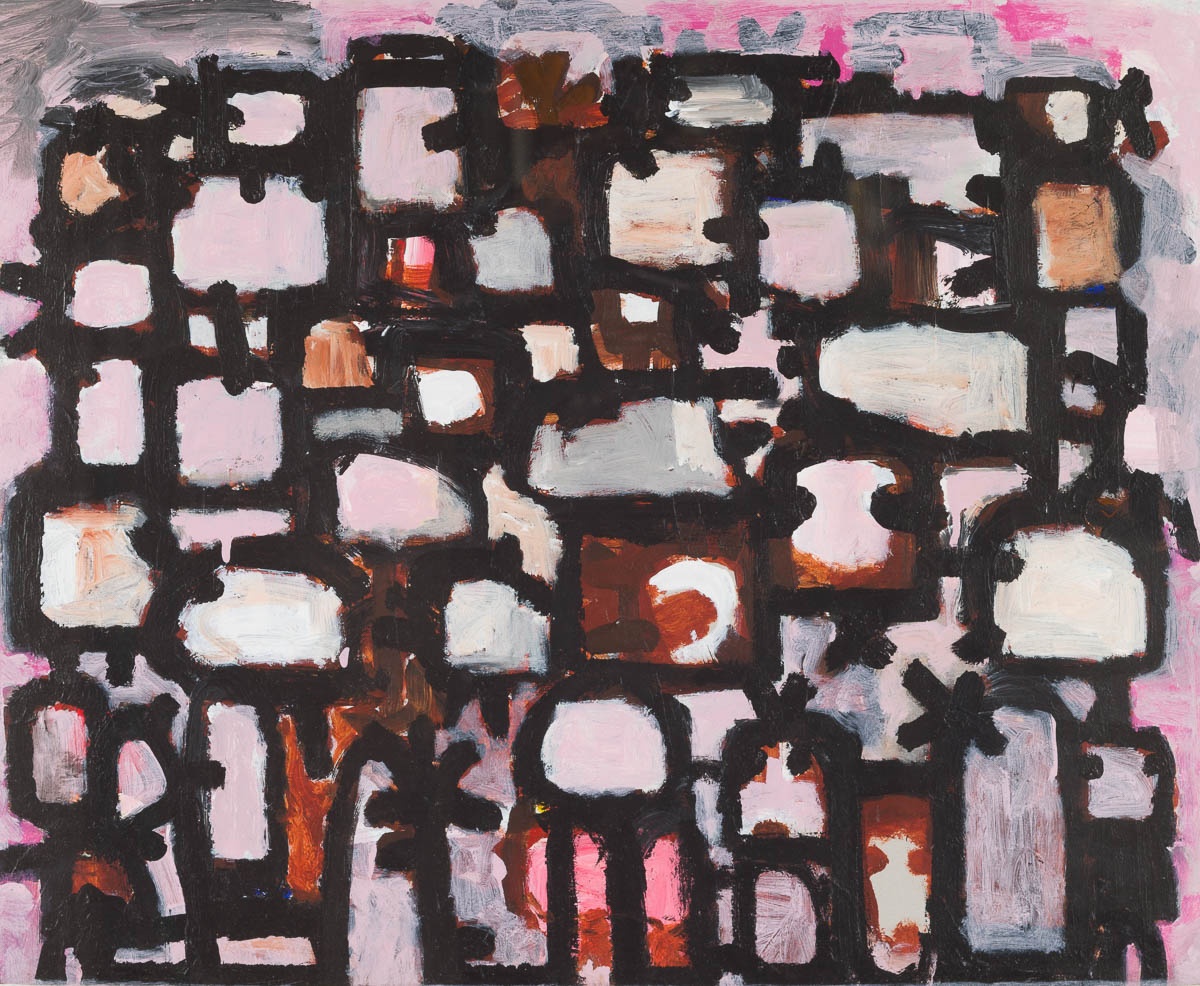 Peter Waldron is in his fifth decade as an artist, still learning, unerringly positive and genuinely excited about the revelations to be found in the making and seeing of art. He has created a significant and broad corpus of works.
Born in Swindon, he comes from a family with a strong tradition of rail works engineering, going back several generations. It was a path that he too was expected to take, and he dutifully 'stuck it out' until he was 21 years old. Art though was a strong calling for him. As a boy he was always drawing, painting and making things, so when the offer came to sign up to evening art classes, he immediately put his hand up. It was during these sessions that he was encouraged by the tutor to consider enrolling as a full time student. Something that he had 'no idea' was possible. It was to change the direction of his life.
In 1962, he joined Swindon School of Art's foundation course. He went on to gain a place at Chelsea School of Art, where he indulged in the 'terrific atmosphere', the brand new building at Manresa Road and having access to tutors and artists such as John Hoyland, Richard Hamilton - who later encouraged him into his first solo show. He took advantage of all the opportunities and made a natural progression towards painting. It was, and remains, the medium that offered him the broadest means of expression. In 1968 he was awarded Fellowship in Painting at Gloucestershire College of Art.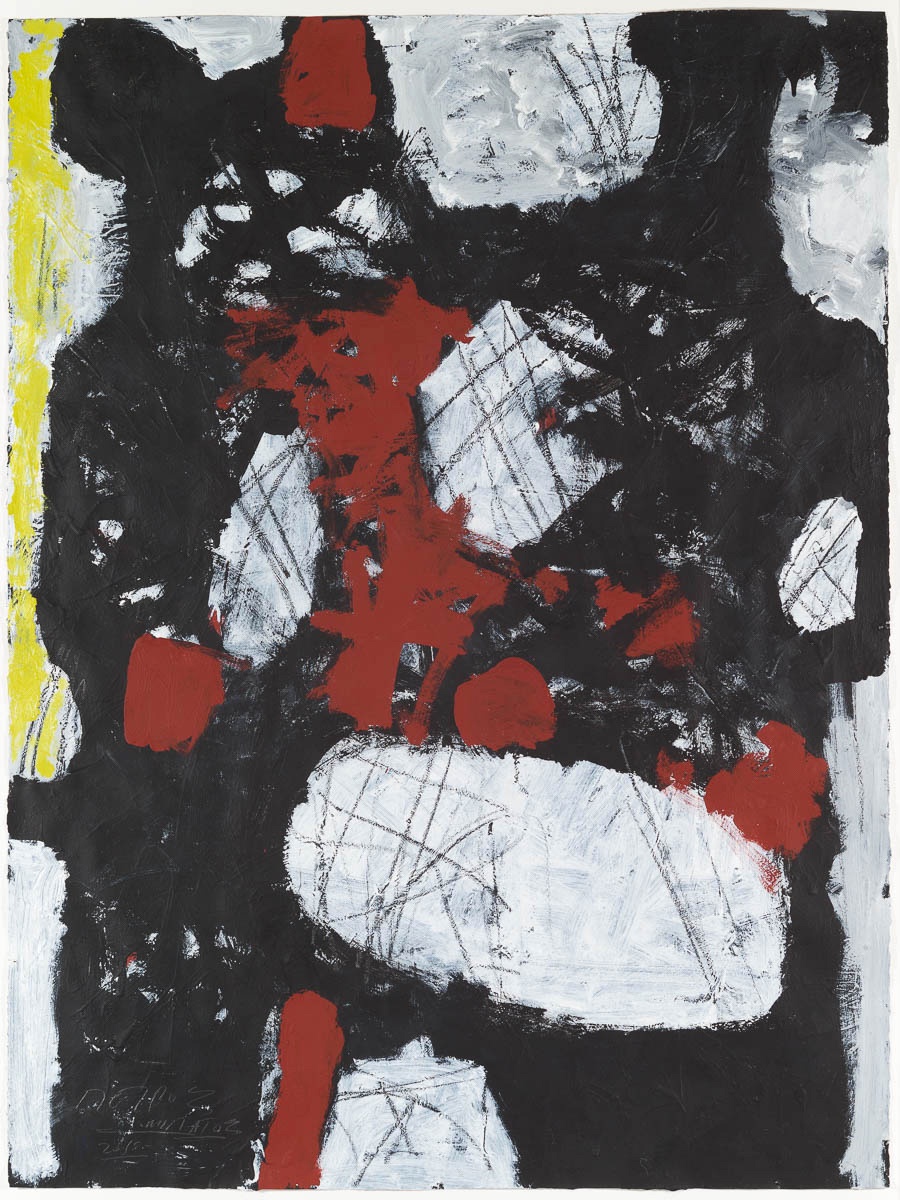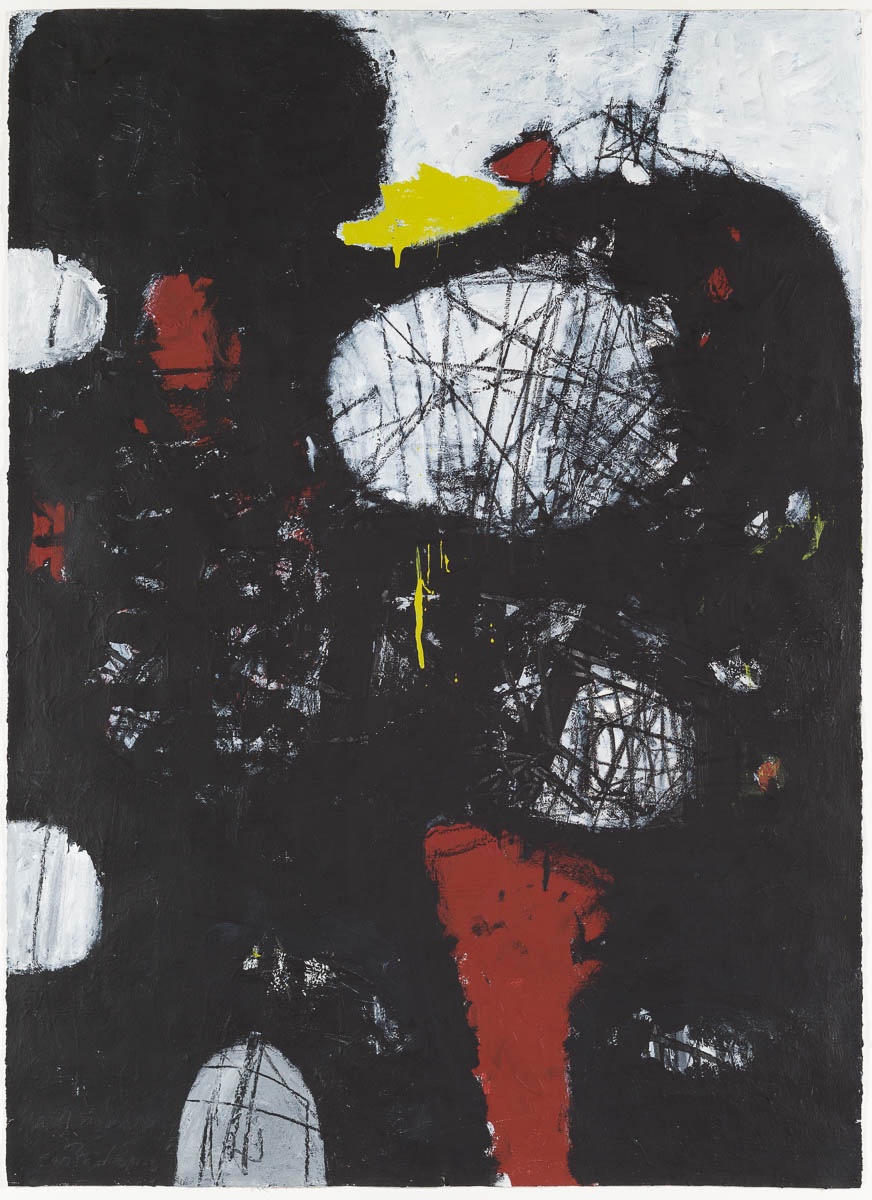 Waldron is an artist deeply influenced by the abstract inquiry of that time. He comments that he wanted to 'get away' from figure-field painting and rely instead on colour and thecanvas to be the object and concept behind his work.
The subjects that interest him are intertwined with his own personal development. He explains that the two are 'inseparable'. For him, painting is an expression of both personality and the product of experiences, good and sometimes very bad. The work has to be truthful and 'let nothing get in your way'. This is not easy, and in attempting to reveal something it conversely extends the feeling of mystery about it too. Painting is an emotional process, to which he must stay attuned, open ended and purposeful. Even in the simplest subject, pictures can be loaded with emotion. He believes it is these qualities that make an artist and without them, it cannot be art.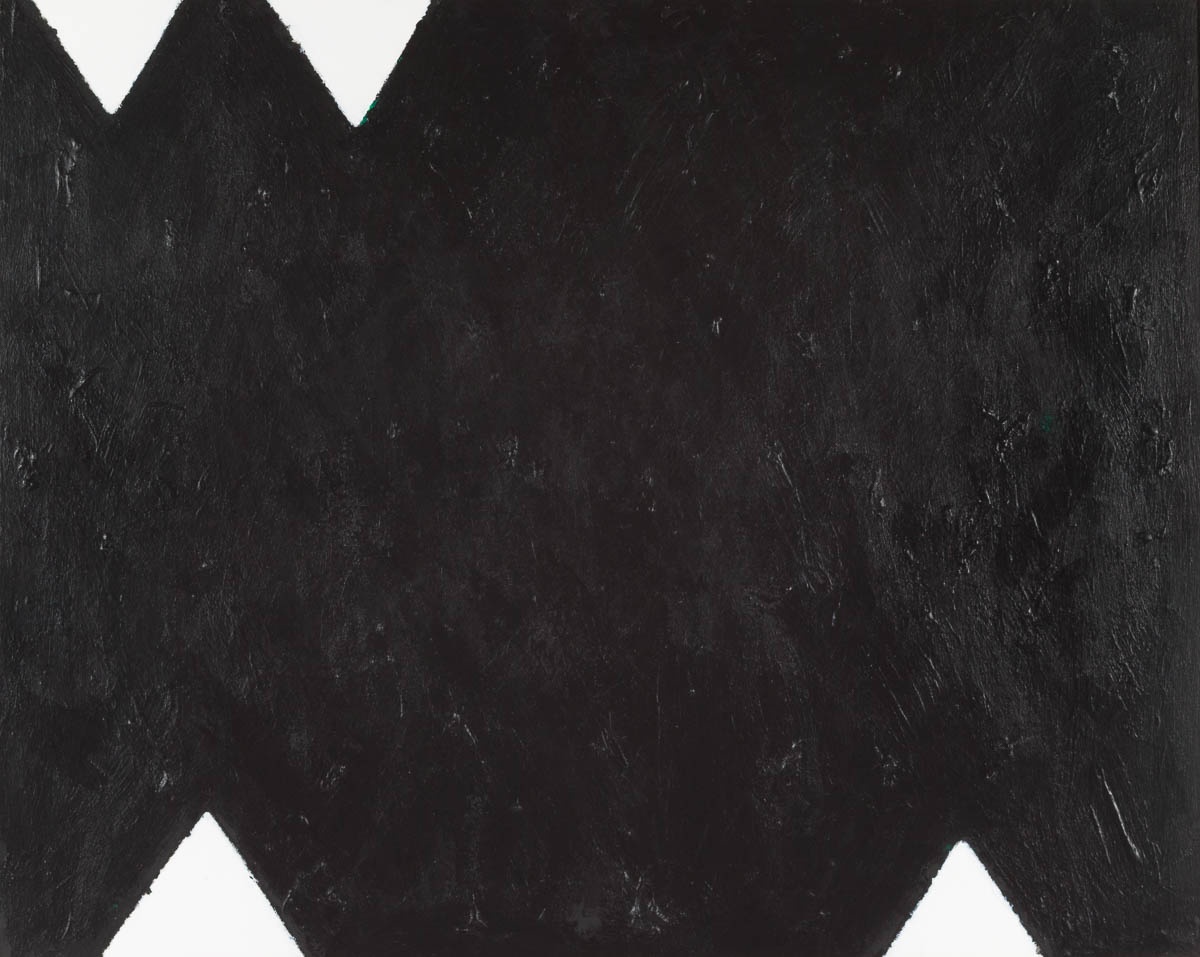 In visual terms, his work is very structured, frontal, with no diminishing perspective. Strong, graphic marks fill the canvas, lattice-like and dramatic. He is 'not afraid of colour', which vibrates under his energetic mark-making, worked and layered into intense tones. His touch is exuberant, big-hearted, yet executed with clarity and precision. Intrusions of black feature in much of his later work, which he uses to give both depth and perspective. All interconnect and reveal a yin-yang balance of the rhythms and forms he sees in the natural world.
Waldron is highly knowledgeable about his subject, not only his studies but from the years he spent sourcing and handling art, teaching at art schools and first hand experience of working with and being amongst some of the most influential British artists of the 20th century. He worked as an assistant for Patrick Caulfield and later
had a studio in SPACE, in London, alongside Bridget Riley and Peter Sedgley. He had solo exhibitions at the Serpentine Gallery and The Museum of Modern Art, Oxford. His work was also shown at The Royal Academy's Big Paintings exhibition and at the Whitworth in Manchester. He comments that all these events have 'shaped him' and been invaluable and important to the development of his work.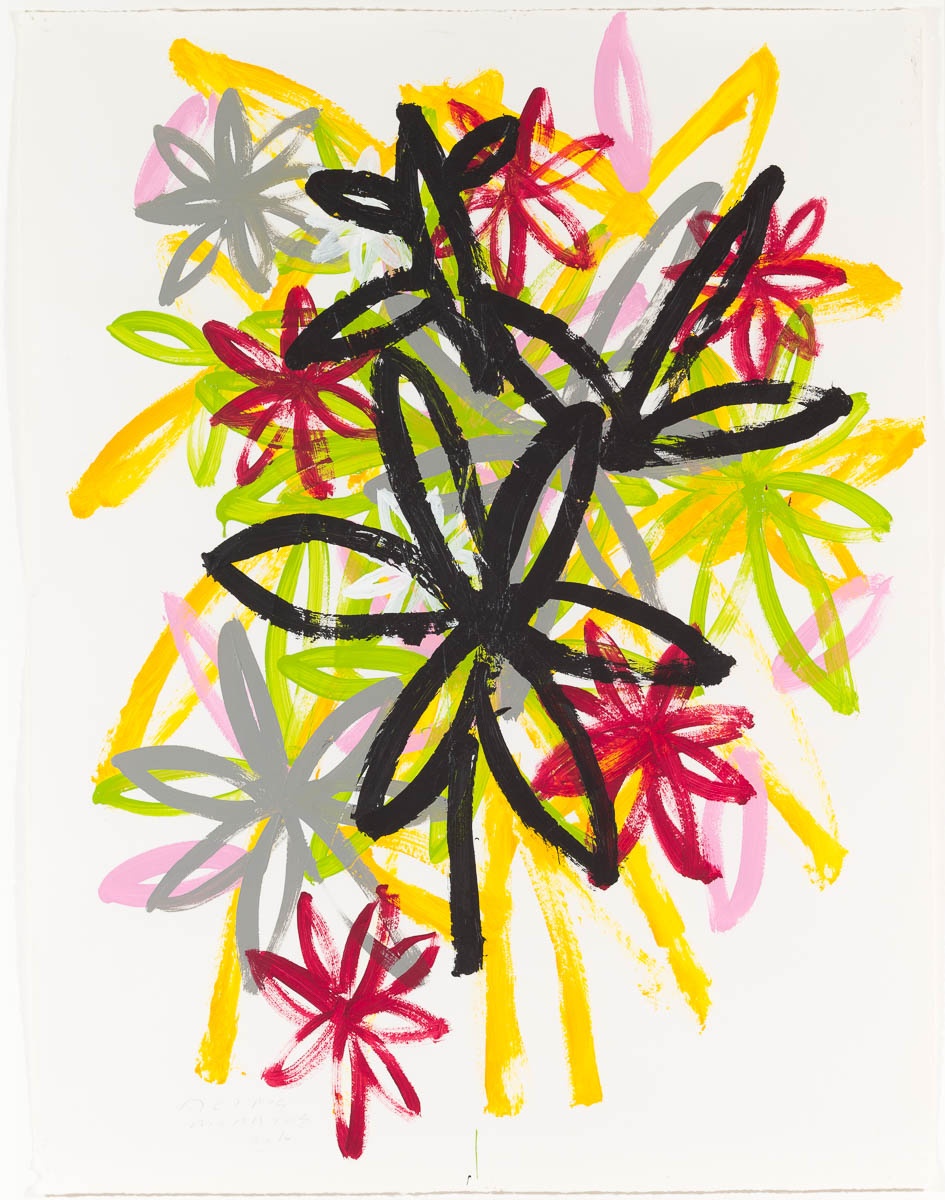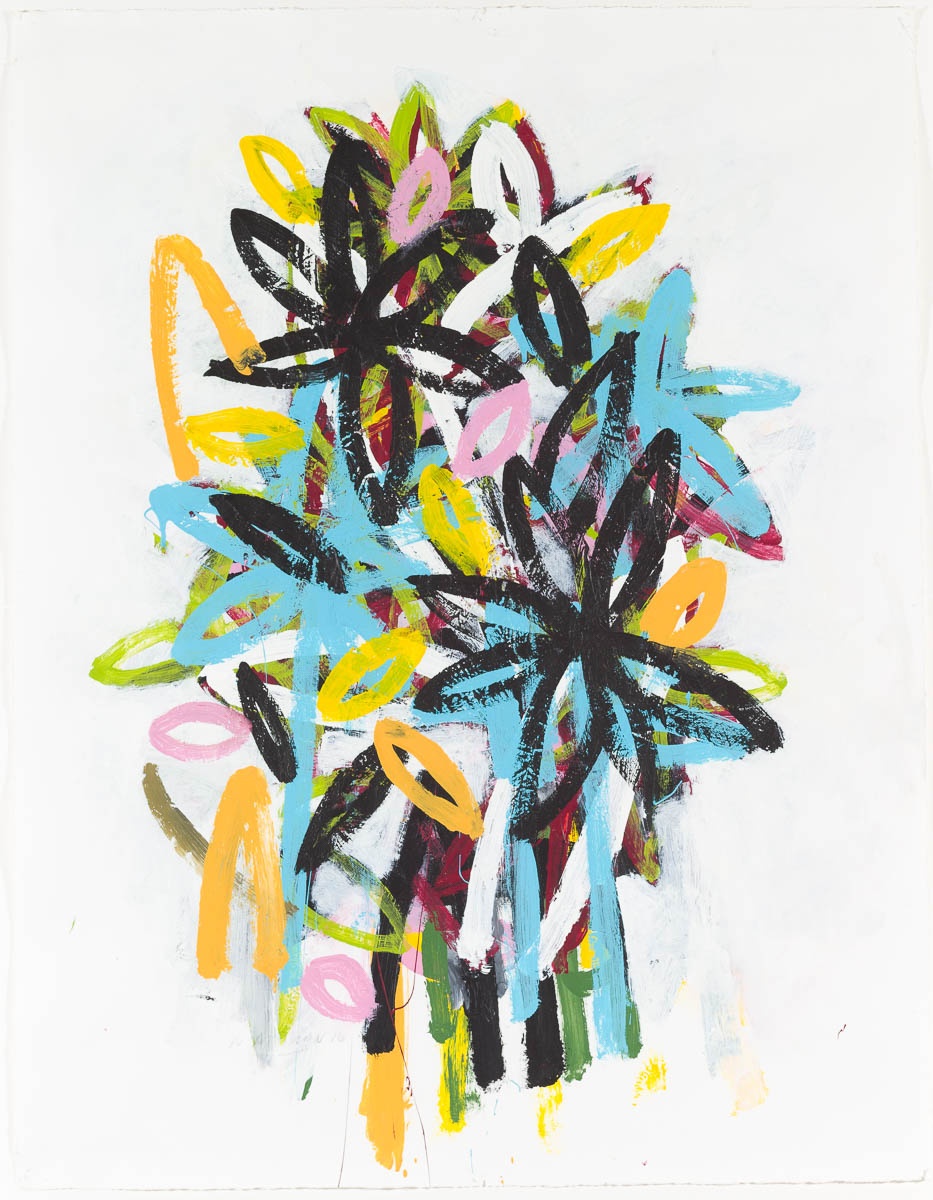 In the last decade, his work has been mainly influenced by thetime he has spent in his studio in Crete. A place first introduced to him by Caulfield, he later re-visited it and decided to spend the summers there. His work focused on abstract expressions of the natural Cretan environment and stories of Greek mythology. His Louloudia flower series has been a departure of style for him, neither abstract or figurative, he explored the freedom to spontaneously draw with a brush. Walking through his studio, where he would place paper around the walls, he moved quickly from one to the other mark- making but putting colour and form at the forefront. It was a release, after the more controlled and darker subject of his Zeus series, pre-predominately painted with black, evoking the experience where the Greek god was hidden in a cave as a baby. These Cretan years and explorations have allowed him the time to move himself forward as an artist and 'get to know what I was about'.
Today he is based back in his studio in Hastings and he is is feeling invigorated by his work, "I have a fabulous studio and I've always got something up my sleeve. There's no excuses". It's as elemental to him as the rhythms of nature itself, as he takes care to point out, "there's Earth, Fire, Water ... and Art".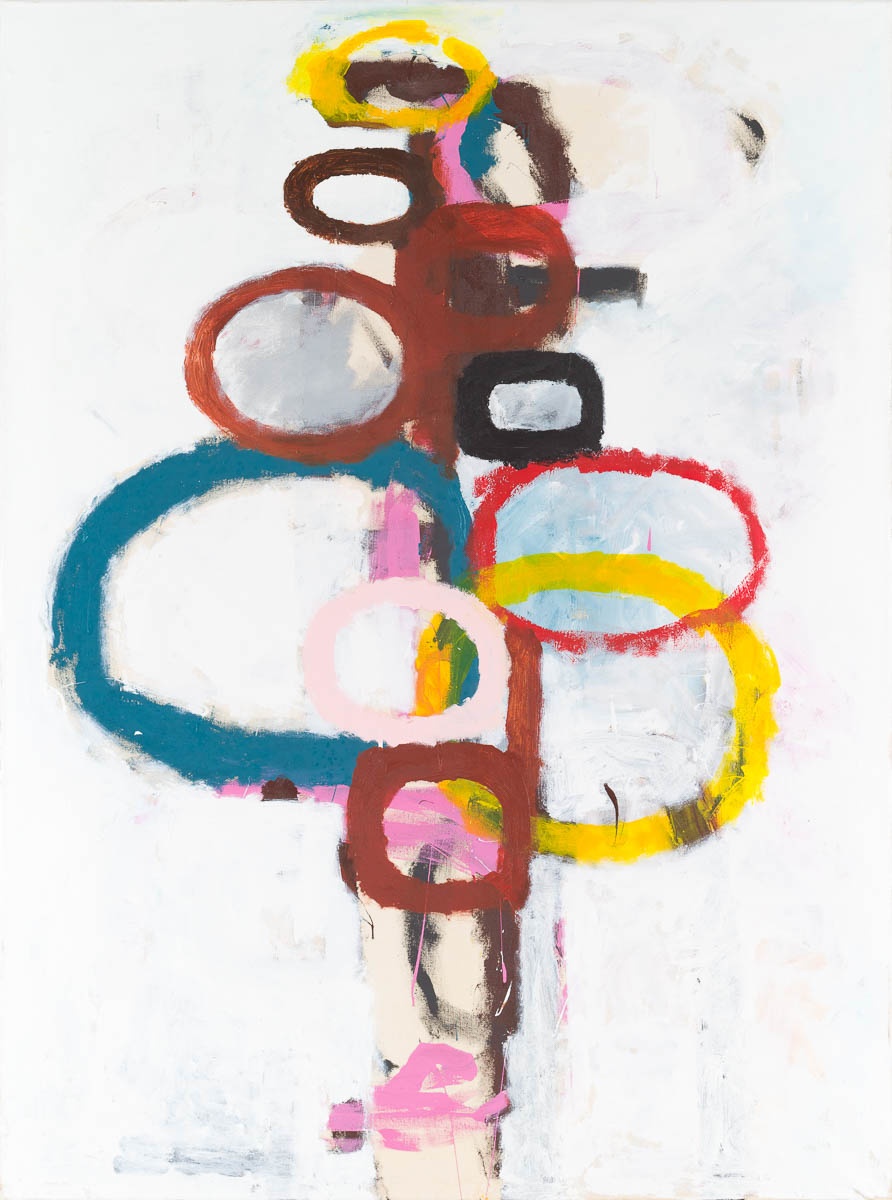 Will Nash (b. 1973)
Mathematics is not the usual theme of a conversation with an artist but for sculptor Will Nash, it is something he has to keep learning in order to get the clarity he seeks in his work. For him it is the fundamental footing for everything we know and what we want to discover. His sculpture "... is not about maths" but by understanding it, he engages with and can grasp the facts of the physical world. It makes sense of space, volume and weight and opens the way for his work to be less about the material and more about an idea. Where the purity of angles, and their relationships to each other, unfold in repeating, sequential forms that, 'when I get it right, triggers something in people' - something hypnotic and fundamental. In this current age of maths and data fascination, it is perhaps apt that this most human, hands-on process of making art, is being used to combine and explore these ideas to make sense of time, space and place.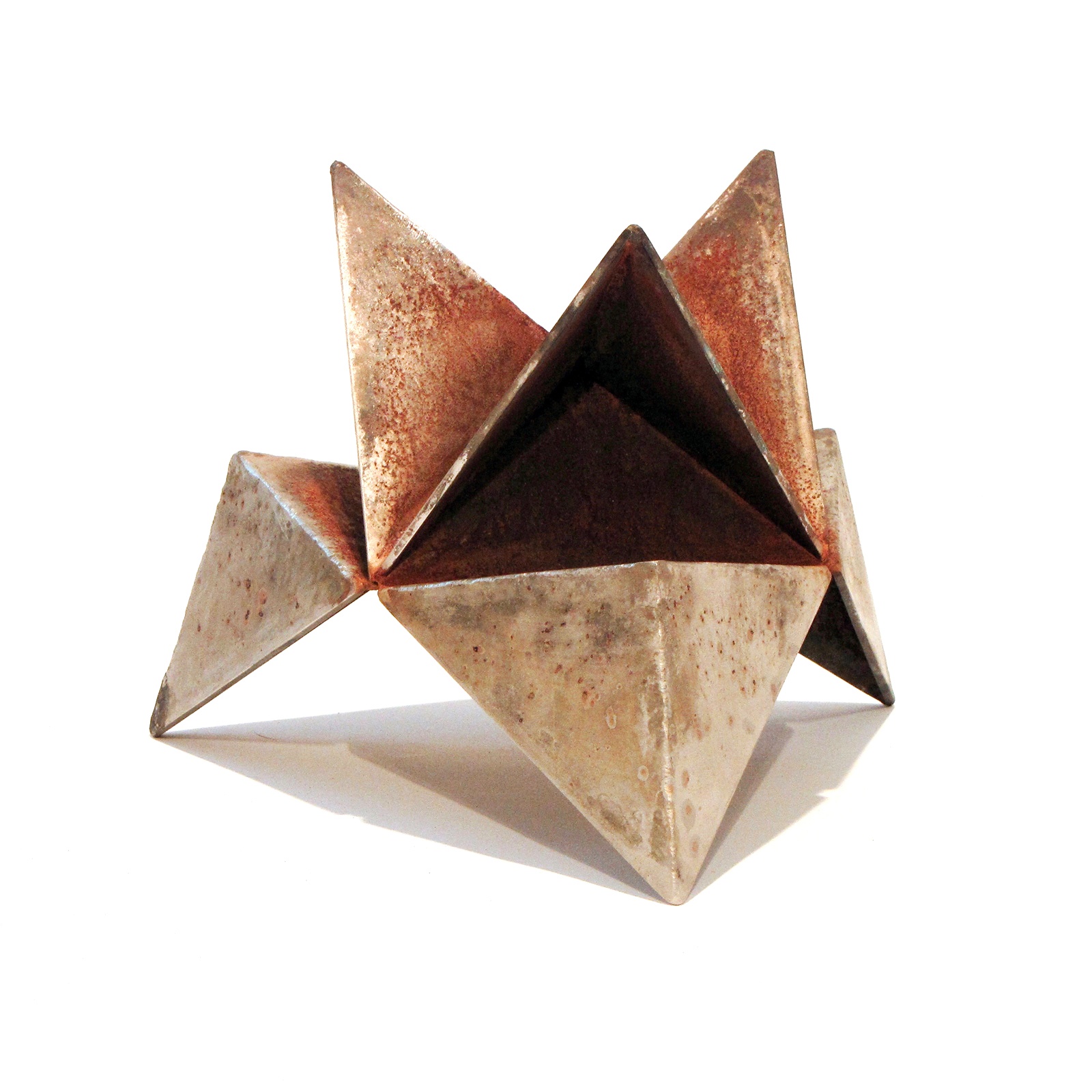 Nash's work could be seen as a sculptural time- lapse. His work is a careful, frame-by-frame, unfolding of origami-like shapes, that as we move around them, invite us into an intricate viewing experience. Each time the viewer moves or adjusts their view they get a better sense of it, a sense of recognition, a different image. The piece is no longer a simple object but can 'take on a bit of a personality'. It's a 'condition' of humans to want to do this, he observes, and although it is not necessarily an animal nor a human characteristic that we see, there is a vitality and an identity there.
The work is not personal per se but he has a sense of ownership in pouring himself into the making of each piece. Yet, the more he creates the more he comes to realise that he is chasing an oasis; where nothing perfect is certain. In knowing this he is content that all the sculptures are him 'trying to get there'. From the kernel of each idea will grow a whole body of work that allows for other new strands to grow. The myriad possibilities 'keep it very interesting'.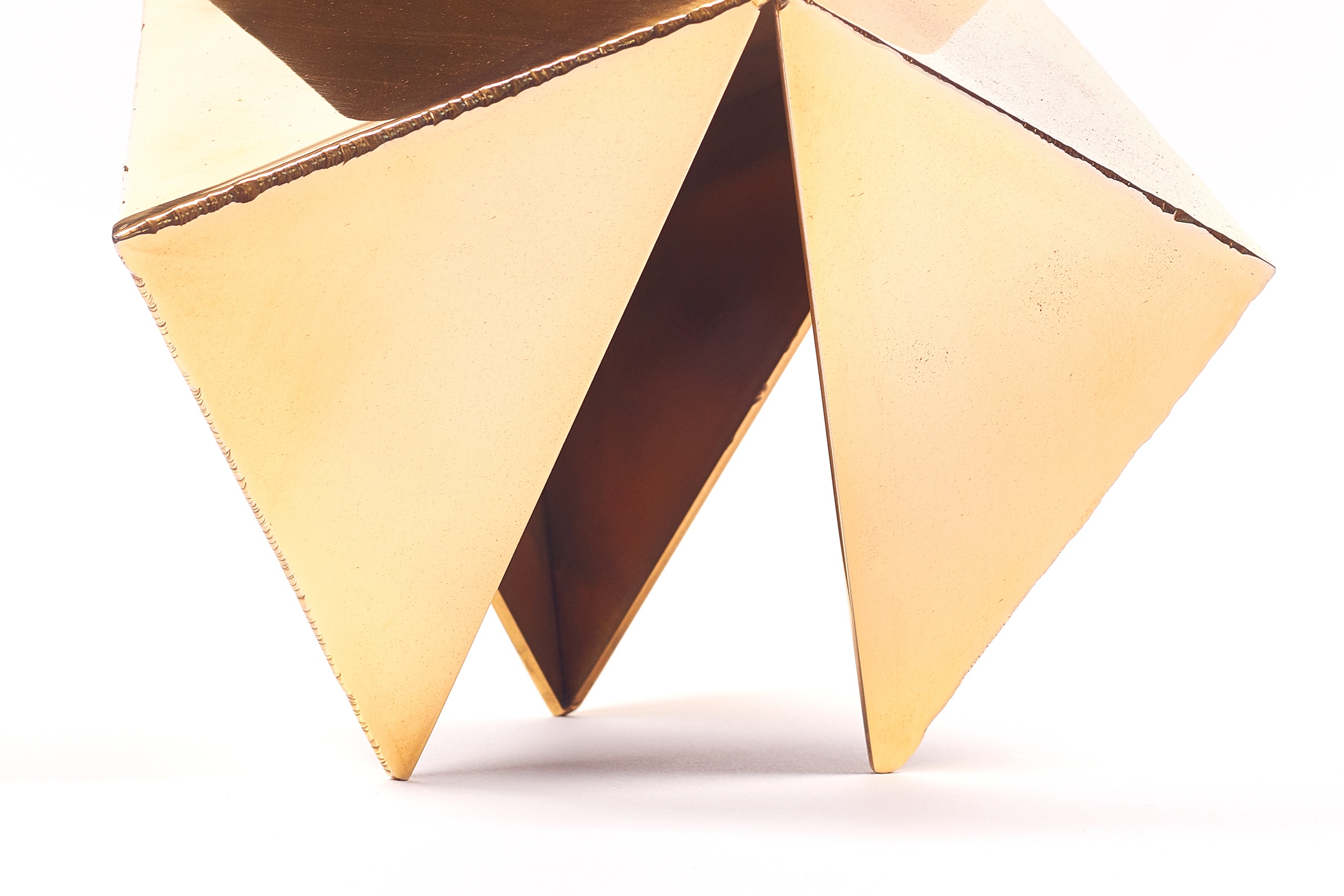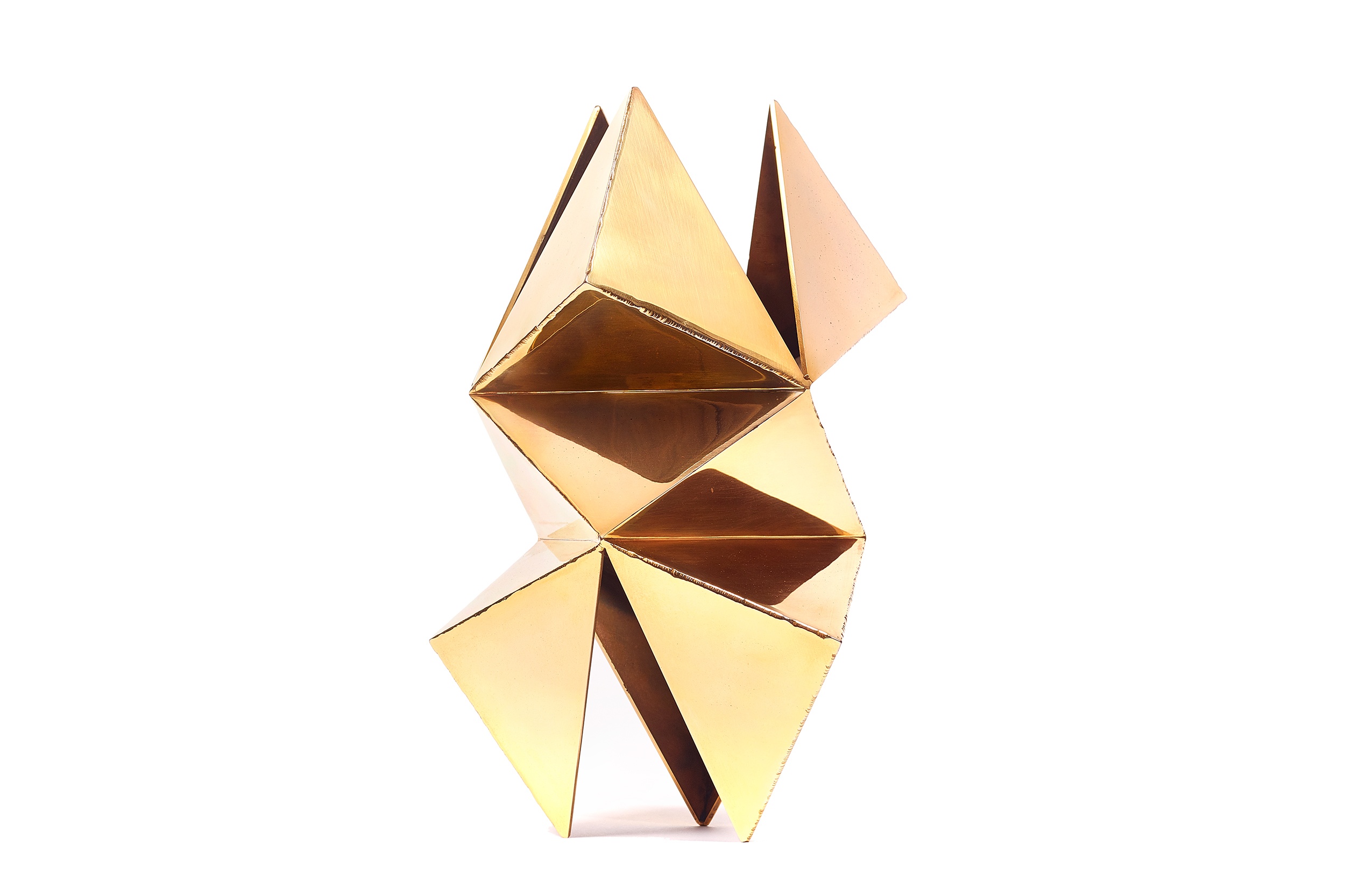 Nash works in an atypical artist's studio. Based onan industrial estate, he has the volume and floorspace for what many may not realise, is a 'noisy and dirty job'. Having his own space allows him to choreograph himself around his subject, welding and plying steel into sequences of cool, geometric forms. In the last few years his work has '...loosened up'. He comments that, 'I used to obsess aboutfinish' but now the more he creates the more hewants there to be a 'rawness' expressed in the work. Rust and burnt edges help him to 'humanise' thepieces and reflect the human effort, thought andemotion invested. It can be 'chaotic and messy' butas he pulls-back and rides the ebb and flow of thecreative process he is able to get to a point where it is clear that the work 'feels like an idea' and is 'not about the material'.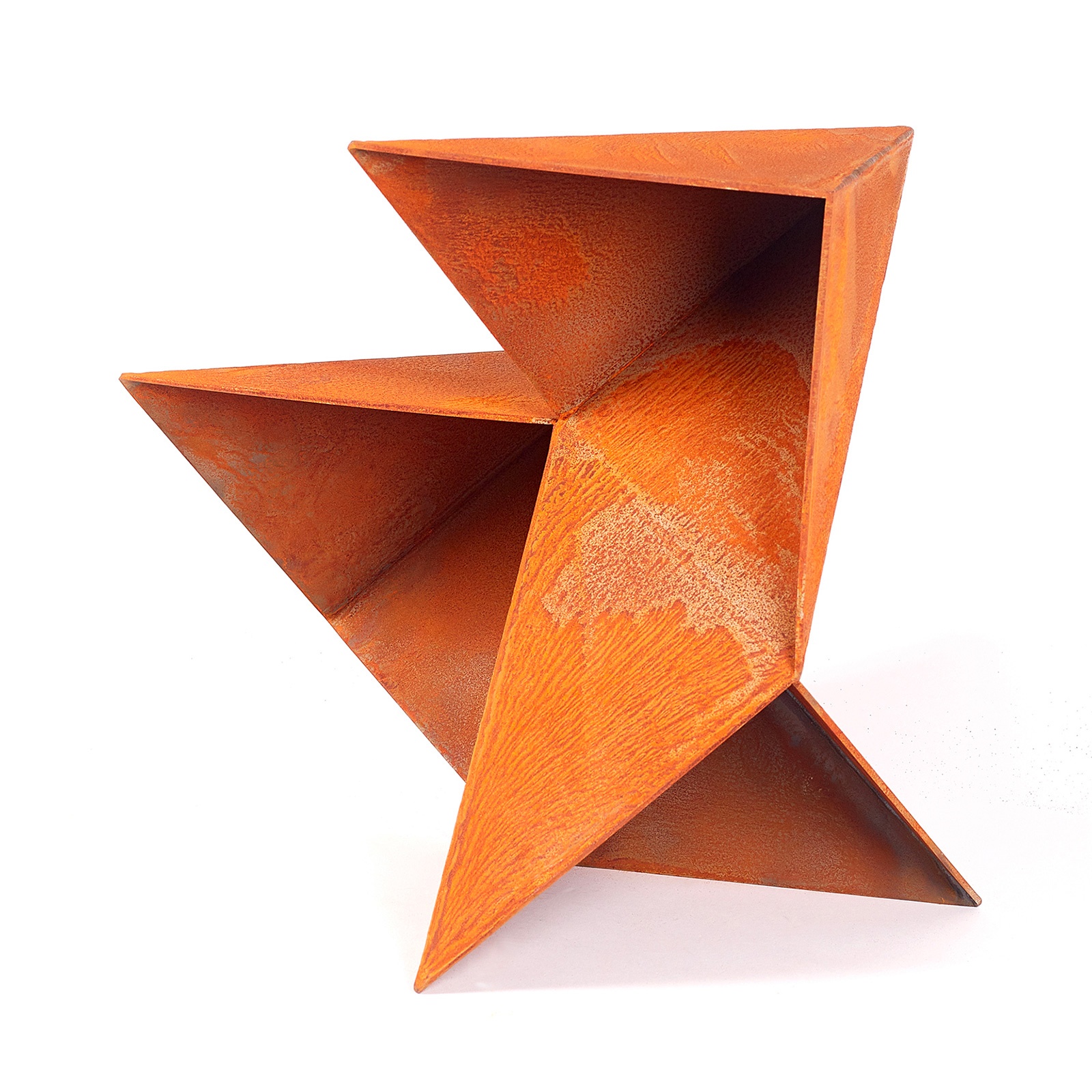 Nash grew up in remote, North Wales, a self- described 'outsider' in the industrial back-drop of a declining manufacturing community. He and his artistic family pursued their work of making and creating art. He was introduced to many artists visiting their studios and taken on extraordinary, cultural trips around the world. He admits that it is these contrasting experiences that have set the trajectory for his life to being an artist today.
He went on to study Fine Art at Middlesex University, remaining in London to practice his art, before moving to Lewes, East Sussex where he now works as a full-time artist creating his own as well as public pieces. Nash received the Sir Leslie Joseph Young Artist of the Year in 2001, and was short-listed for the Jerwood Sculpture Prize in 2009. He has exhibited regularly since 2001 in both group and solo exhibitions, including 'Art, Cities and Landscape' in Amiens, France, 'Blickachsen11' in Bad Homberg, Germany, The New Art Centre, Salisbury, The Cass Sculpture Foundation, Chichester and William Bennington Gallery, London.