Rising star Cecilia Charlton found textiles via painting,
mosaics and scuba-diving. Peter Smisek drops by the
home-studio where she embroiders and weaves her
dazzling works. Photography by Nina Manandhar.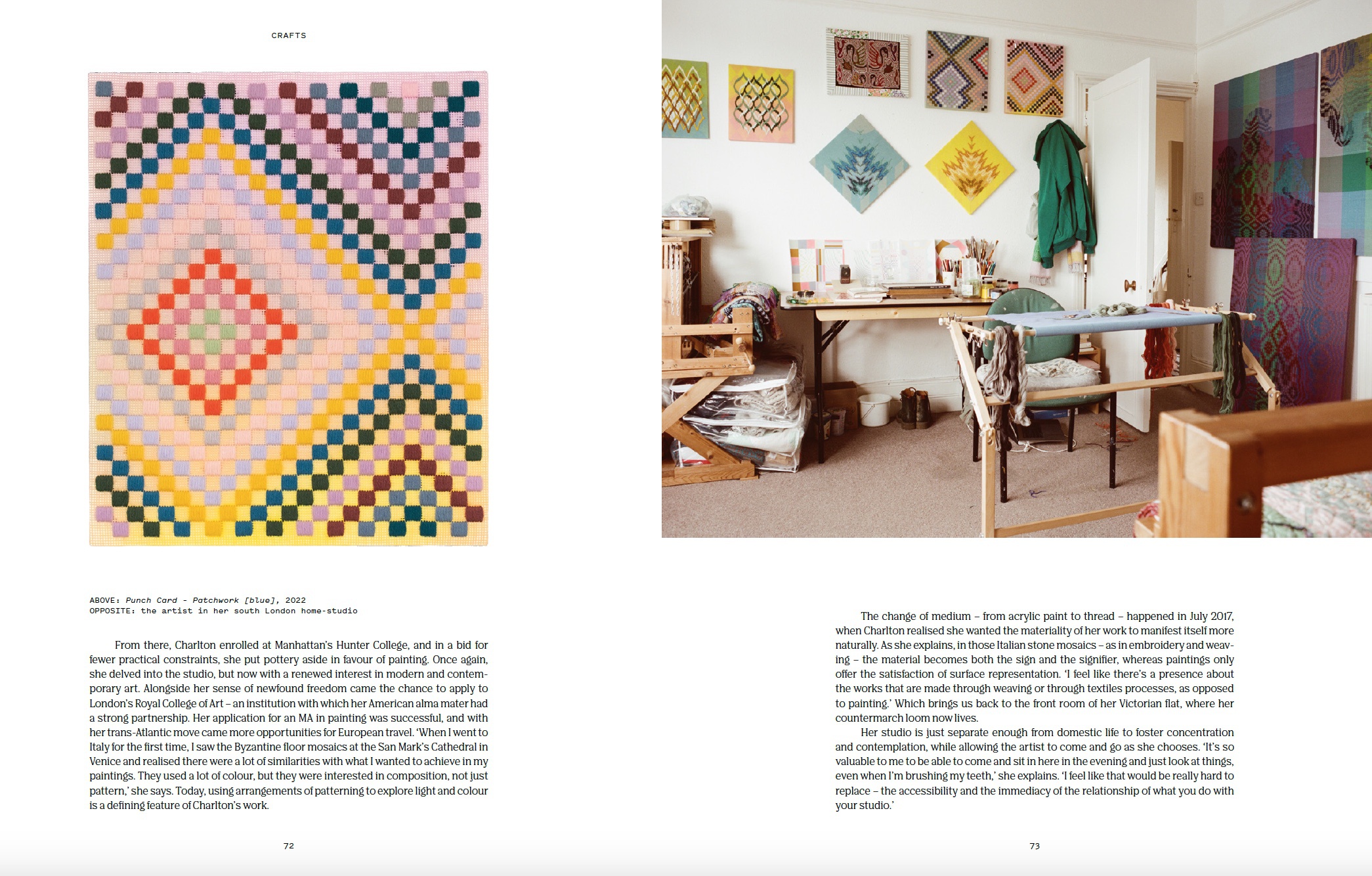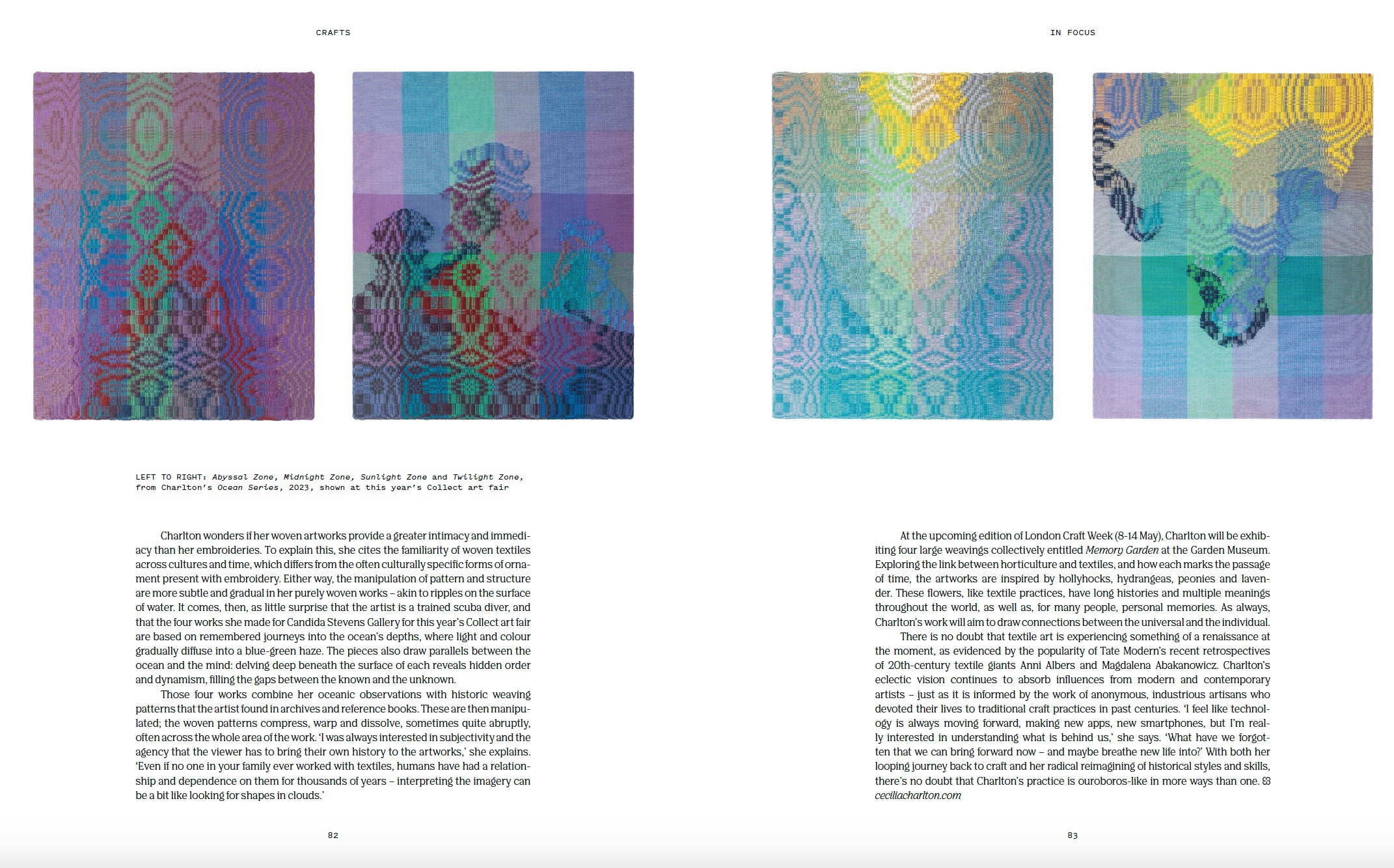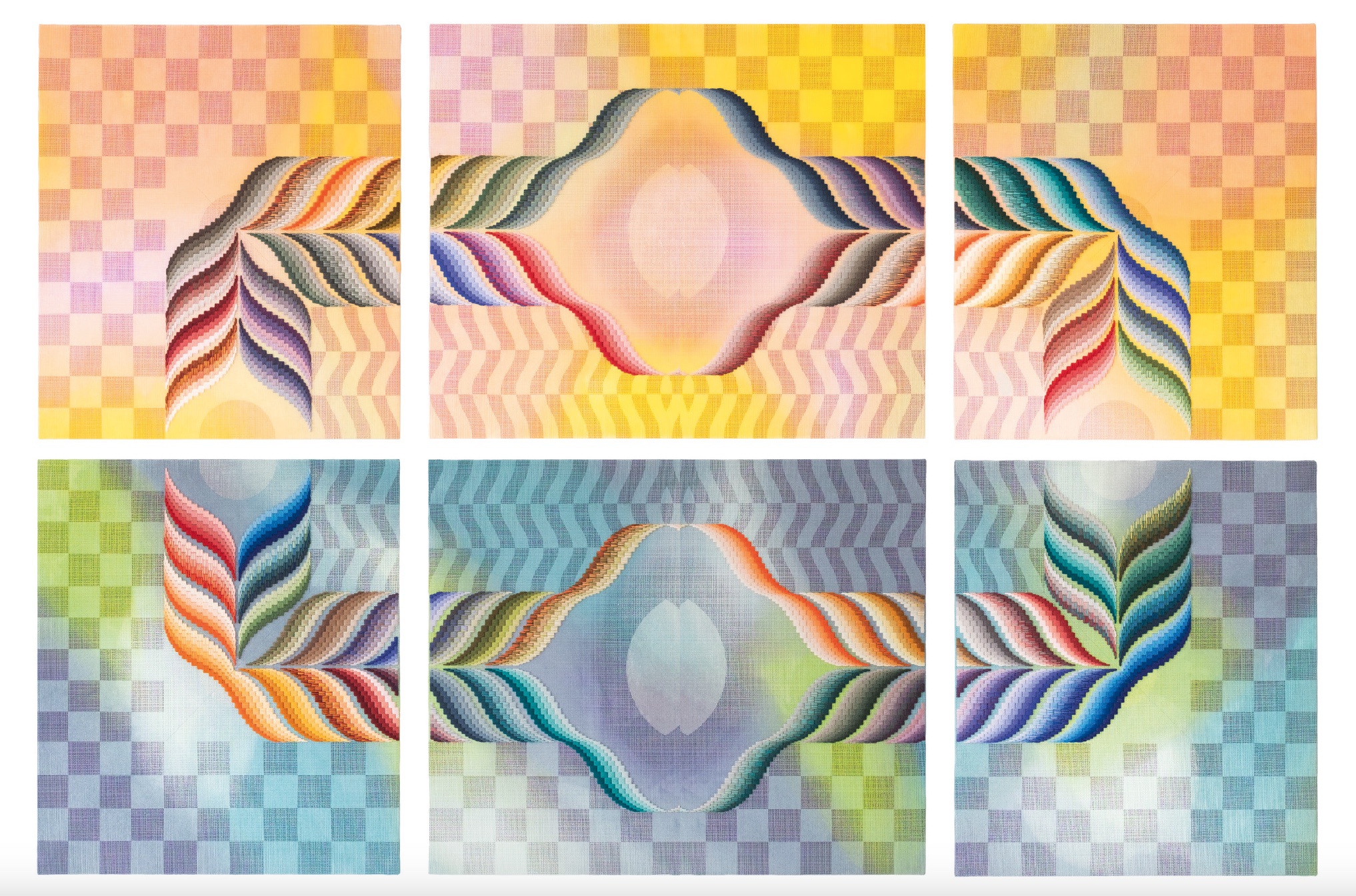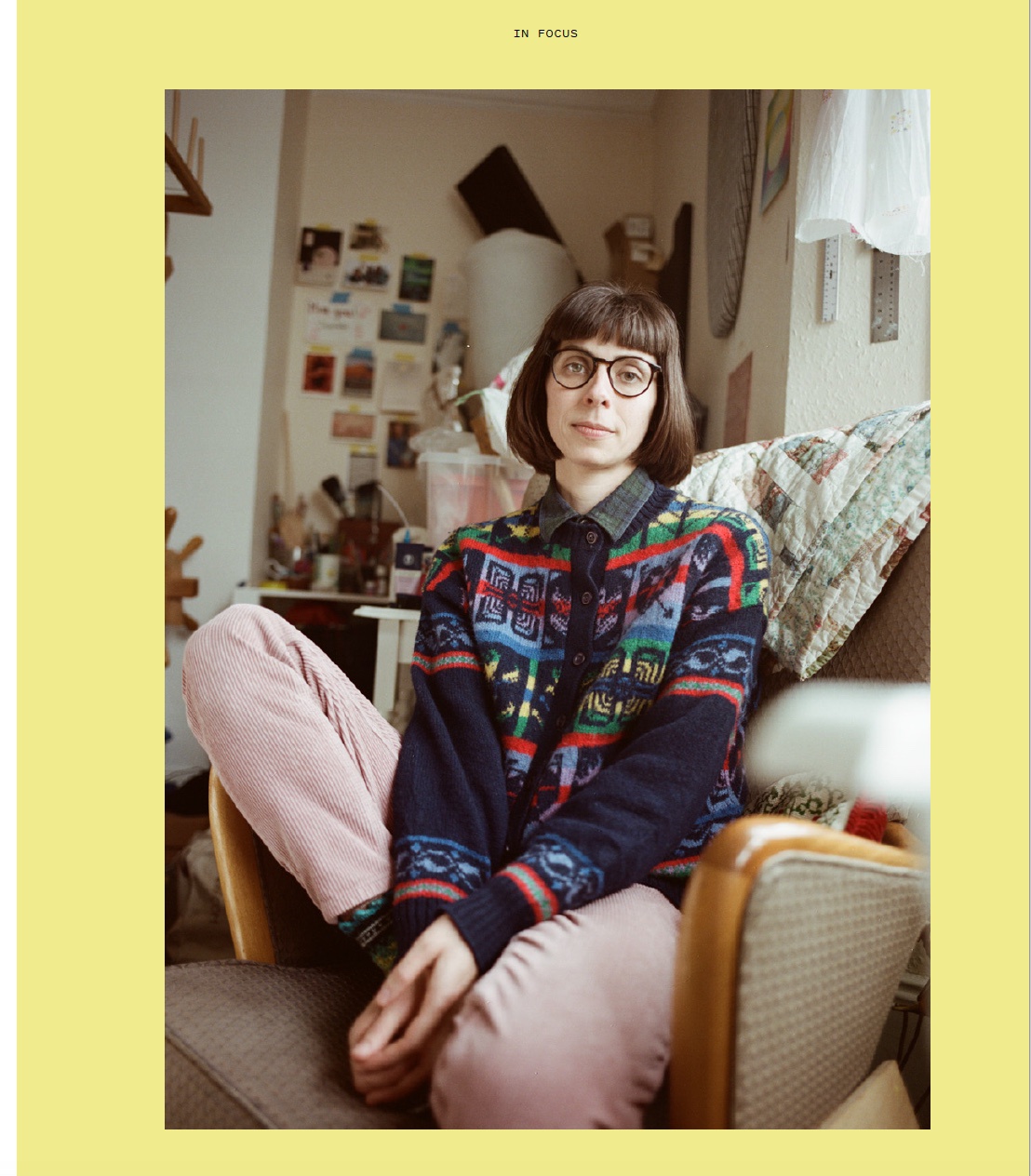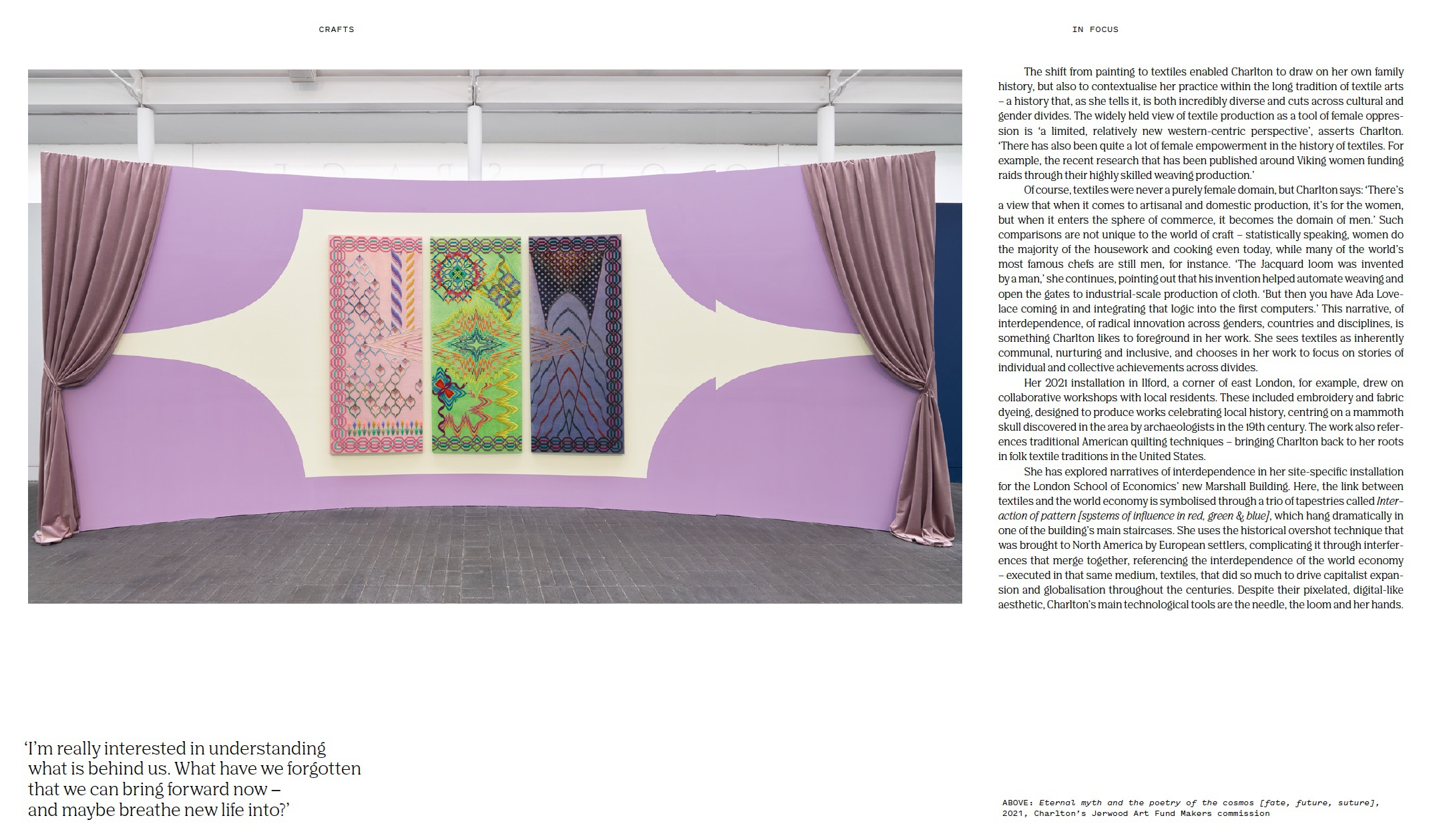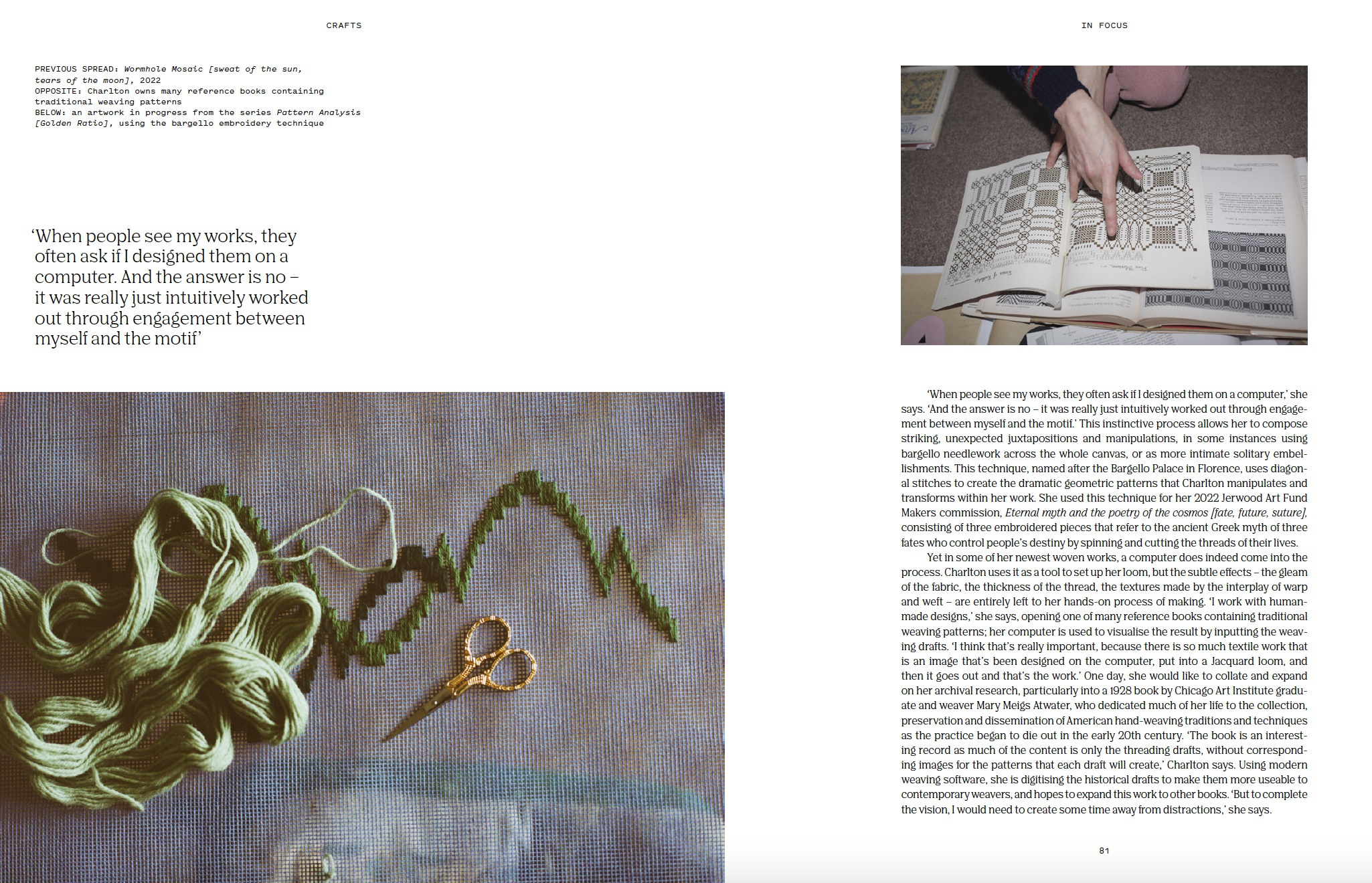 'It's an ouroboros kind of thing,' says Cecilia Charlton, speaking of the circular path that
brought her to weaving – the ouroboros being an ancient symbol of a serpent eating
its own tail. Now one of Britain's most exciting textile artists, she is chatting to me in
her south London home-studio on a misty February morning. Charlton is fast gaining
fame for her almost psychedelic woven wall-hangings, colourful geometric embroideries
and intricate pieces combining thread and paper.
'My childhood was really framed around textiles as they relate to the domestic
sphere,' she recalls, speaking of her childhood in Upstate New York. Her grandmother
was a prodigious quilter with a degree in textiles, and her mother is a 'voracious'
knitter as well as a professional seamstress. Despite this, a career in craft didn't seem
like an option at the time – it was just something the women in Charlton's family did.
Instead, she tried to follow in her father's footsteps by studying engineering, but quickly
realised this wasn't the right fit.
From that point, Charlton slowly made her way back towards a more familiar
creative domain. She initially tried metalwork, followed by pottery, which instilled
in her a love of working in the studio; she was enamoured by the physical process of
making, and the alchemy of wood-fired glazes. But making ceramics, especially pieces
with a functional purpose, felt limiting when it came to pursuing the aesthetic she was
interested in, she says, explaining that her initial fascination was with making pots
with small feet that would sometimes topple over.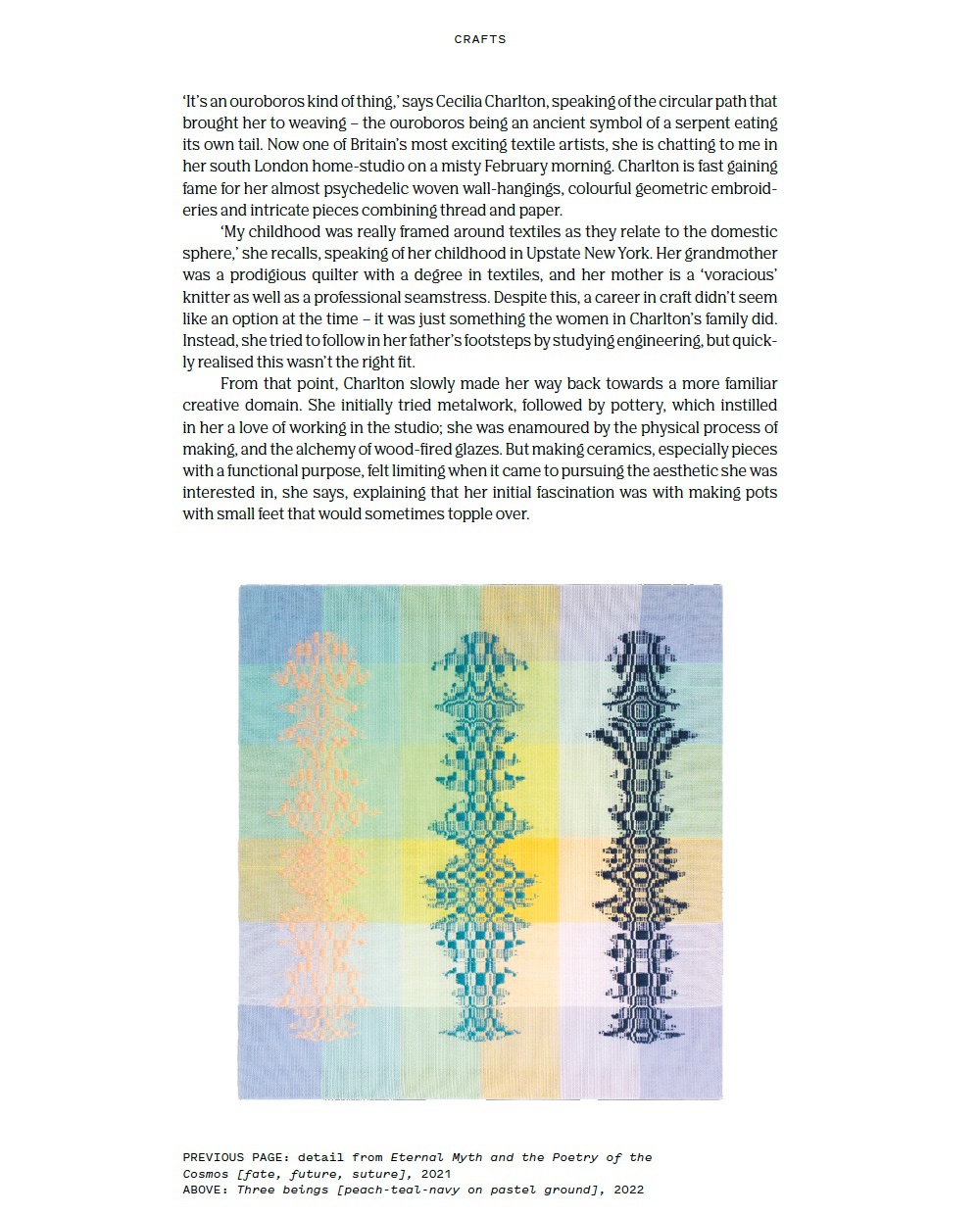 From there, Charlton enrolled at Manhattan's Hunter College, and in a bid for
fewer practical constraints, she put pottery aside in favour of painting. Once again,
she delved into the studio, but now with a renewed interest in modern and contemporary
art. Alongside her sense of newfound freedom came the chance to apply to
London's Royal College of Art – an institution with which her American alma mater had
a strong partnership. Her application for an MA in painting was successful, and with
her trans-Atlantic move came more opportunities for European travel. 'When I went to
Italy for the first time, I saw the Byzantine floor mosaics at the San Mark's Cathedral in
Venice and realised there were a lot of similarities with what I wanted to achieve in my
paintings. They used a lot of colour, but they were interested in composition, not just
pattern,' she says. Today, using arrangements of patterning to explore light and colour
is a defining feature of Charlton's work.
The change of medium – from acrylic paint to thread – happened in July 2017,
when Charlton realised she wanted the materiality of her work to manifest itself more
naturally. As she explains, in those Italian stone mosaics – as in embroidery and weaving
– the material becomes both the sign and the signifier, whereas paintings only
offer the satisfaction of surface representation. 'I feel like there's a presence about
the works that are made through weaving or through textiles processes, as opposed
to painting.' Which brings us back to the front room of her Victorian flat, where her
countermarch loom now lives.
Her studio is just separate enough from domestic life to foster concentration
and contemplation, while allowing the artist to come and go as she chooses. 'It's so
valuable to me to be able to come and sit in here in the evening and just look at things,
even when I'm brushing my teeth,' she explains. 'I feel like that would be really hard to
replace – the accessibility and the immediacy of the relationship of what you do with
your studio.'
The shift from painting to textiles enabled Charlton to draw on her own family
history, but also to contextualise her practice within the long tradition of textile arts
– a history that, as she tells it, is both incredibly diverse and cuts across cultural and
gender divides. The widely held view of textile production as a tool of female oppression
is 'a limited, relatively new western-centric perspective', asserts Charlton.
'There has also been quite a lot of female empowerment in the history of textiles. For
example, the recent research that has been published around Viking women funding
raids through their highly skilled weaving production.'
Of course, textiles were never a purely female domain, but Charlton says: 'There's
a view that when it comes to artisanal and domestic production, it's for the women,
but when it enters the sphere of commerce, it becomes the domain of men.' Such
comparisons are not unique to the world of craft – statistically speaking, women do
the majority of the housework and cooking even today, while many of the world's
most famous chefs are still men, for instance. 'The Jacquard loom was invented
by a man,' she continues, pointing out that his invention helped automate weaving and
open the gates to industrial-scale production of cloth. 'But then you have Ada Lovelace
coming in and integrating that logic into the first computers.' This narrative, of
interdependence, of radical innovation across genders, countries and disciplines, is
something Charlton likes to foreground in her work. She sees textiles as inherently
communal, nurturing and inclusive, and chooses in her work to focus on stories of
individual and collective achievements across divides.
Her 2021 installation in Ilford, a corner of east London, for example, drew on
collaborative workshops with local residents. These included embroidery and fabric
dyeing, designed to produce works celebrating local history, centring on a mammoth
skull discovered in the area by archaeologists in the 19th century. The work also references
traditional American quilting techniques – bringing Charlton back to her roots
in folk textile traditions in the United States.
She has explored narratives of interdependence in her site-specific installation
for the London School of Economics' new Marshall Building. Here, the link between
textiles and the world economy is symbolised through a trio of tapestries called Interaction
of pattern [systems of influence in red, green & blue], which hang dramatically in
one of the building's main staircases. She uses the historical overshot technique that
was brought to North America by European settlers, complicating it through interferences
that merge together, referencing the interdependence of the world economy
– executed in that same medium, textiles, that did so much to drive capitalist expansion
and globalisation throughout the centuries. Despite their pixelated, digital-like
aesthetic, Charlton's main technological tools are the needle, the loom and her hands.
'When people see my works, they often ask if I designed them on a computer,' she
says. 'And the answer is no – it was really just intuitively worked out through engagement
between myself and the motif.' This instinctive process allows her to compose
striking, unexpected juxtapositions and manipulations, in some instances using
bargello needlework across the whole canvas, or as more intimate solitary embellishments.
This technique, named after the Bargello Palace in Florence, uses diagonal
stitches to create the dramatic geometric patterns that Charlton manipulates and
transforms within her work. She used this technique for her 2022 Jerwood Art Fund
Makers commission, Eternal myth and the poetry of the cosmos [fate, future, suture],
consisting of three embroidered pieces that refer to the ancient Greek myth of three
fates who control people's destiny by spinning and cutting the threads of their lives.
Yet in some of her newest woven works, a computer does indeed come into the
process. Charlton uses it as a tool to set up her loom, but the subtle effects – the gleam
of the fabric, the thickness of the thread, the textures made by the interplay of warp
and weft – are entirely left to her hands-on process of making. 'I work with humanmade
designs,' she says, opening one of many reference books containing traditional
weaving patterns; her computer is used to visualise the result by inputting the weaving
drafts. 'I think that's really important, because there is so much textile work that
is an image that's been designed on the computer, put into a Jacquard loom, and
then it goes out and that's the work.' One day, she would like to collate and expand
on her archival research, particularly into a 1928 book by Chicago Art Institute graduate
and weaver Mary Meigs Atwater, who dedicated much of her life to the collection,
preservation and dissemination of American hand-weaving traditions and techniques
as the practice began to die out in the early 20th century. 'The book is an interesting
record as much of the content is only the threading drafts, without corresponding
images for the patterns that each draft will create,' Charlton says. Using modern
weaving software, she is digitising the historical drafts to make them more useable to
contemporary weavers, and hopes to expand this work to other books. 'But to complete
the vision, I would need to create some time away from distractions,' she says.
' When people see my works, they
often ask if I designed them on a
computer. And the answer is no –
it was really just intuitively worked
out through engagement between
myself and the motif'
Charlton wonders if her woven artworks provide a greater intimacy and immediacy
than her embroideries. To explain this, she cites the familiarity of woven textiles
across cultures and time, which differs from the often culturally specific forms of ornament
present with embroidery. Either way, the manipulation of pattern and structure
are more subtle and gradual in her purely woven works – akin to ripples on the surface
of water. It comes, then, as little surprise that the artist is a trained scuba diver, and
that the four works she made for Candida Stevens Gallery for this year's Collect art fair
are based on remembered journeys into the ocean's depths, where light and colour
gradually diffuse into a blue-green haze. The pieces also draw parallels between the
ocean and the mind: delving deep beneath the surface of each reveals hidden order
and dynamism, filling the gaps between the known and the unknown.
Those four works combine her oceanic observations with historic weaving
patterns that the artist found in archives and reference books. These are then manipulated;
the woven patterns compress, warp and dissolve, sometimes quite abruptly,
often across the whole area of the work. 'I was always interested in subjectivity and the
agency that the viewer has to bring their own history to the artworks,' she explains.
'Even if no one in your family ever worked with textiles, humans have had a relationship
and dependence on them for thousands of years – interpreting the imagery can
be a bit like looking for shapes in clouds.'
At the upcoming edition of London Craft Week (8-14 May), Charlton will be exhibiting
four large weavings collectively entitled Memory Garden at the Garden Museum.
Exploring the link between horticulture and textiles, and how each marks the passage
of time, the artworks are inspired by hollyhocks, hydrangeas, peonies and lavender.
These flowers, like textile practices, have long histories and multiple meanings
throughout the world, as well as, for many people, personal memories. As always,
Charlton's work will aim to draw connections between the universal and the individual.
There is no doubt that textile art is experiencing something of a renaissance at
the moment, as evidenced by the popularity of Tate Modern's recent retrospectives
of 20th-century textile giants Anni Albers and Magdalena Abakanowicz. Charlton's
eclectic vision continues to absorb influences from modern and contemporary
artists – just as it is informed by the work of anonymous, industrious artisans who
devoted their lives to traditional craft practices in past centuries. 'I feel like technology
is always moving forward, making new apps, new smartphones, but I'm really
interested in understanding what is behind us,' she says. 'What have we forgotten
that we can bring forward now – and maybe breathe new life into?' With both her
looping journey back to craft and her radical reimagining of historical styles and skills,
there's no doubt that Charlton's practice is ouroboros-like in more ways than one.