EMBROIDERY MAGAZINE - January / February 2021
Interview by Ellen Bell.
There's no ignoring Cecilia Charlton's technicolour, highly-patterned textile works, as she uses her painter's eye to reinterpret bargello for the 21st century. As an account of an artist's trajectory, Cecilia Charlton's is a remarkable one. An American, currently resident in London, Charlton was raised in Corning, New York State.
A 'company town' home to Corning Inc. - initially a manufacturer of glass later diversifying into newer technologies and principal civic employer, including of Charlcon's parents -Charlton describes her hometown as being 'all about science and engineering'. It was a bias that led her unquestioningly into studying engineering. 'I lasted for about a semester before I realised that this wasn't something that motivated me. And though Charlton's mother had always sewn, eventually leaving Corning Inc. to set up her own business as a seamstress, the thought of pursuing an artistic career herself was never a consideration: 'I hadn't taken a single art class beyond what was integrated into the curriculum.'
The vocational course in silver-smithing that followed and her ensuing interest in ceramics, which eventually led to a year's apprenticeship with a ceramics sculptor in the remote Hudson Valley were all about, in Charlton's words, 'inching my way towards painting.'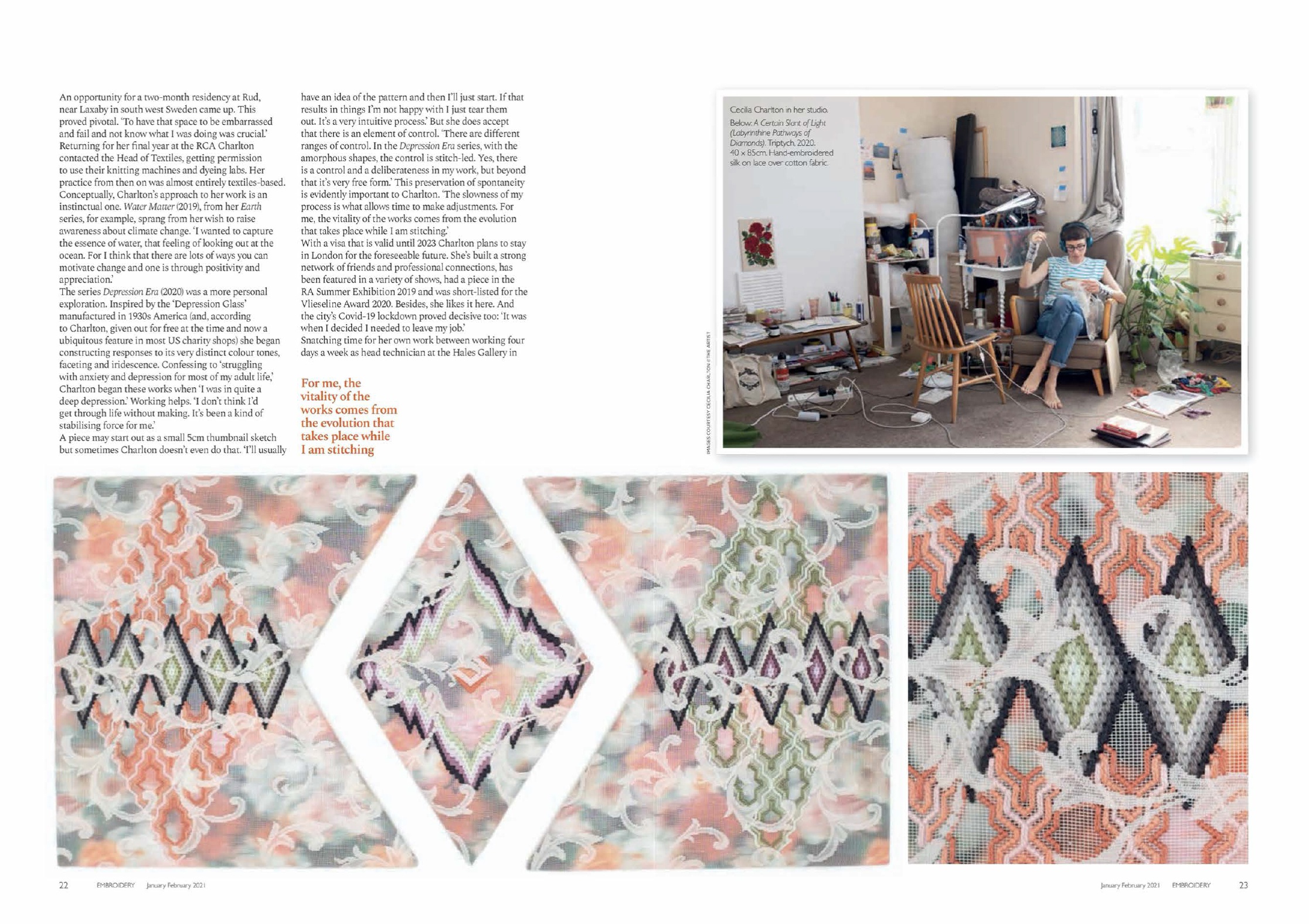 Charlton talks a lot about her relationship with materials. Silver she didn't take to and though she loved the labour-intensive process of wood-fired pottery, what she saw as its perperual returning to functionality didn't satisfy her either. 'I had spent a year living and working in near-isolation and I started thinking I wanted to go back to school to have more dialogue and to develop more ways of thinking about art.' She enrolled on a painting degree at New York's Hunter College. 'I thought I'd get into mixed media and installation but I just happened to take an introductory course in painting and it ended up being all I wanted to do.'
Championing her gallery agent Candida Stevens' egalitarian approach to the showing of contemporary painting and textiles, Charlton makes little distinction between herself as a painter and embroiderer. 'I don't ask to be perceived as either a fine artist or a craftsperson: for my practice, I find the distinction immaterial.' And certainly in Charlton's case, with her focus at Hunter being on the abstract hard-edged acrylic painting prevalent in the US in the 1960s, compositionally the disciplines have much in common.
Awarded a summa cum laude (a distinction) at Hunter, Charlton applied to study painting at the Royal College of Art and was shortlisted for a Fulbright Scholarship. Then, during the New Year of her first year at the RCA, she and her husband (also a painter, and then studying at the Slade) went to Venice: 'It just blew my mind. It was an aesthetic revelation to me. It changed everything.' The mosaics of the churches' floors particularly captivated her: 'Such limitless ingenuity and creativity - it was amazing.'
On her rerum to her studio at the RCA, desperate to capture the patterns she'd seen, she struggled to work them in acrylic. 'I realised that paint, especially around curves, didn't want to co-operate. It's a liquid, it really wants to gloop everywhere.' What she describes as the 'restraint' it required of her soon developed into frustration. A subsequent trip to visit her partner's family in Vermont sparked her next epiphany. 'We were in a coffee shop waiting for his sister to arrive when I noticed a book about Bargello embroidery sitting on a ledge.' Intrigued by the patterns displayed on the cover, she took a picture.
Prior to the US trip Charlton had tried substituting oil paint for acrylic but soon became intimidated by the 'steep learning curve' mastering it required. 'Then I realised that I already had a substantial base of knowledge around sewing.' Clearly intent on passing on her sewing skills, Charlton recounts how her mother would 'do lessons with us on the sewing machine, challenging us to sew along the lines on notebook paper.' In particular she remembers working a cross-stitch sampler and how, though the knots exasperated her, she felt real satisfaction in finishing it.
Nevertheless, Charlton's transition from acrylic painting to Bargello embroidery wasn't a smooth one: 'I had to figure out a lot of things.' An opportunity for a two month residency at Rud, near Laxaby in south west Sweden came up. This proved pivotal. 'To have that space to be embarrassed and faiI and not know what l was doing was crucial.' Returning for her final year at the RCA Charlton contacted the Head of Textiles, getting permission to use their knitting machines and dyeing labs. Her practice from then on was almost entirely textiles-based. Conceptually, Charlton's approach to her work is an instinctual one. Water Matter from her Earth series, for example, sprang from her wish to raise awareness about climate change. 'I wanted co capture the essence of water, that feeling of looking out at the ocean. For I think that there are lots of ways you can motivate change and one is through positivity and appreciation:
The series Depression Era (2020) was a more personal exploration. Inspired by the 'Depression Glass' manufactured in 1930s America (and, according to Charlton, given out for free at the time and now a ubiquicous feature in most US charity shops) she began constructing responses to its very distinct colour cones, faceting and iridescence. Confessing to 'struggling with anxiety and depression for most of my adult life,' Charlton began these works when 'I was in quite a deep depression.' Working helps. 'I don't think I'd get through life without making. It's been a kind of stabilising force for me.' A piece may start out as a small 5cm thumbnail sketch but sometimes Charlton doesn't even do that. 'I'll usually have an idea of the pattern and then I'll just start. If that results in things I'm not happy with l just tear them out. It's a very intuitive process.' But she does accept that there is an element of control. 'There are different ranges of control. In the Depression Era series, with the amorphous shapes, the control is stitch-led. Yes, there is a control and a deliberateness in my work, but beyond that it's very free form.' This preservation of spontaneity is evidently important co Charlton. 'The slowness of my process is what allows time to make adjustments. For me, the vitality of the works comes from the evolution that takes place while I am stitching.'
With a visa that is valid until 2023 Charlton plans to stay in London for the foreseeable future. She's built a strong network of friends and professional connections, has been featured in a variery of shows, had a piece in the RA Summer Exhibition 2019 and was short-listed for the Vlieseline Award 2020. Besides, she likes it here. And the city's Covid 19 lockdown proved decisive too: 'It was when Idecided I needed to leave my job.' Snatching time for her own work between working four days a week as head technician at the Hales Gallery in Shoreditch, Charlton felt she needed to decide 'where I want to be mentally and physically. The lockdown taught her to value 'continued studio-consciousness'. Juggling a demanding job with an equally demanding studio practice, is, as Charlton says, like 'trying to blow up a balloon with lots of tiny little breaths when what you need is a huge voluminous one: The studio time she has gained since her resignation has paid dividends.
'I've made important developments. With the space I've had to think, my work has just got bigger and bigger.' Though money is a concern, Charlton is sanguine. Taking solace from the artists' stories on The Great Women Artists podcast she listens to while working, she admits that such is often the lot of the artist. 'It's like the way I approach my work; with uncertainty there's the possibility for creativity.'@
Ellen Bell
Cecilia Charlton is showing at Platform, London Art Fair with Candida Stevens Gallery