28 September 2022
Candida Stevens Gallery's upcoming group show, place – displace, explores the enduring impact of one's roots, and the creative outputs of three artists who now live hundreds of miles from where they were born. Irish-born artist Ben Crawford emigrated to Queensland, Australia 11 years ago. It was on Instagram where gallery owner Candida Stevens first discovered his work though.

Stevens says: "It is very unusual for us as a gallery to discover an artist via Instagram and for this discovery to lead to a long-term and fully realised relationship without ever meeting in person, but with Ben being in Australia, meeting was not on the cards."
A figurative painter, Crawford mostly paints about his life, connecting the past and present, and the nostalgic and surreal. He says: "A lot of artists are a bit magpie-ish by nature and I think that describes my work method pretty well. As well as images, I'm constantly collecting ideas to use as source material for paintings. These come from the books I read, the films and TV I watch, the music I listen to, the landscape around me, the memories and anecdotes that linger in the recesses of my brain. They all sort of jumble together and then somehow get filtered out into a painting. I enjoy that free association of imagery, where disparate elements can come together to create something harmonious, something that can be universally read but also unrestricted in its meaning. Although a lot of the narratives in my paintings stem from personal memories and stories, I like to keep them ambiguous, avoiding being overly sentimental or nostalgic if I can as I think this can limit the reading of the work. The process of painting lends itself to creating something surprising and unknown."

Stevens adds: "[Crawford's] work is so immediately engaging; who are these people, where are they from, what are they doing there? Discovering that Ben had moved from Ireland to Queensland, and was creating these timeless and placeless narrative-style paintings, I wondered what his experience of emigrating had been. As with all the artists in this exhibition [place – displace], he said that with moving to a new homeland, there is always a slight sense of being the outsider that hovers around the edges of one's experience. For me, these paintings feel placed in history with Ben as the visitor, some of these figures are him or his children, others are people from other lands and other times.

"He is such a delight to work with, totally professional and committed, and despite Zoom being our only face-to-face contact, I feel I know him."

Ten works by Crawford will feature in place – displace alongside pieces by Charlotte Evans, a British-born artist who first moved to the US in 2011 and now lives in Toronto, Canada; and Russian-born artist Veronica Smirnoff who moved to the UK as a teenager. The exhibition is available to view by appointment in Chichester from October 5 and Tuesday to Saturday from 8-11 October. From 8-13 November, it will open at Cromwell Place, London.

Crawford has a busy few months ahead. He will also be working on paintings for a 2023 solo show to be held at Boom Gallery, Australia, a painting for December's London Art Fair (again with Candida Stevens), and works for a number of charity auctions.
About the champion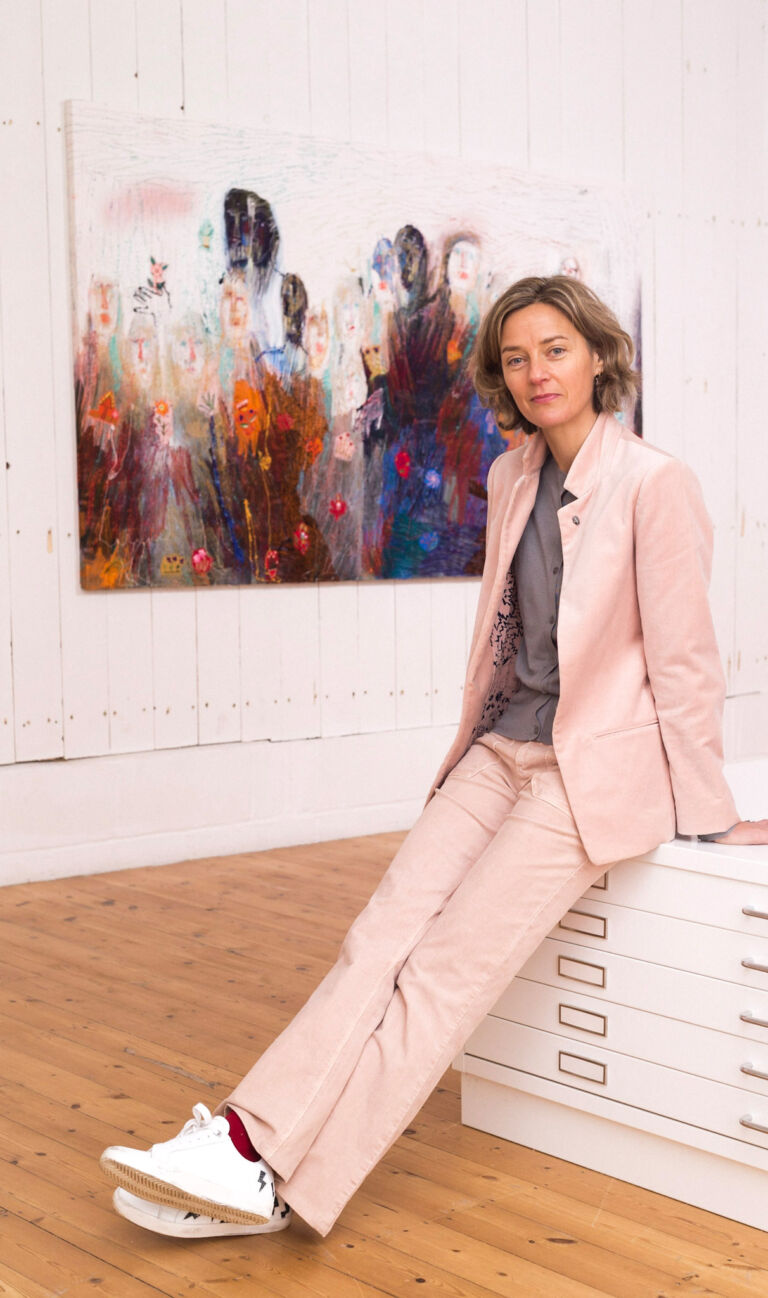 After working in new media, then luxury goods and fine art for more than two decades, curating collections and developing and directing small businesses, Candida Stevens set up independently as Candida Stevens Gallery in 2013. Her namesake gallery has since built an impressive reputation for its ambitious curatorial themes and for attracting some of the finest emerging and established artists working in Britain today.